Interactive Telecommunications Program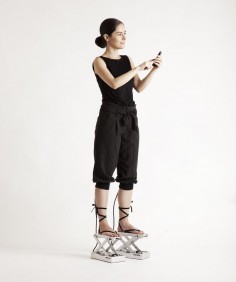 source: marthagarzon
Adi Marom, Interactive Telecommunications Program, Tisch School of the Arts, New York University
Designs by Adi Marom and Hans Hemmert explore how daily functions and especially face-to-face communication can change simply by tweaking and tinkering with people's height. Marom's robotic footwear extends and contracts via an iPhone application, so that the wearer becomes taller or shorter to fit various needs and moods— from reaching a higher supermarket shelf to smelling a flower on a tree branch; height thus becomes what the designer calls an "interactive variable."
.
.
.
.
.
.
.
source: adimarom
A pair of interactive robotic shoes that are activated by an iPhone application.
SHORT++ explores the possibility of making height an interactive variable
that can be modified in real-time and how it would reshape interaction between people.
.
.
.
.
.
.
.
source: adimarom
I am a Creative Lead and Senior Interaction Designer at the Rockwell Group LAB, where I have been working on multiple projects, including experience centers for Google, Plug-In-Play featured in San Jose 2010 Zero1 Biennial, Intel CES 2013 Ultrabook Tree, and Digital Blocks for the National Building Museum PLAY WORK BUILD exhibit. In addition I am teaching at The Interactive Telecommunication Program (ITP, NYU) and at Parsons The New School for Design.
With my experience in product design, digital fabrication, physical computing, interaction design, and kinetic design, I develop interactive products & environments, kinetic artifacts, and tangible interfaces.
This website is an evolving record of my art and design works. You will find that in my past and recent works
I have been passionate to bridge between physical and digital, low-tech and high-tech, art & science; in order to engage users/viewers in new interactive experiences.
My work has been exhibited at museums and art galleries worldwide, including The Museum of Modern Art NYC, IDEE Design Museum Tokyo, Japan; The New International Expo Center in Shanghai, China; Museum of Modern Art Taipei, Taiwan; and the International Design Center in Nagoya, Japan, among others. My work has also been featured in different media outlets including The New York Times, The New York Magazine, National Public Radio (NPR), The Discovery Channel, Fast Company, Make Magazine, The Sun Newspaper (UK), Casa Brutus (Japan), DAMn° Magazine (Europe), Joong Ang Daily (Korea), and more (see the Press section).