Some Pheasants in Singularity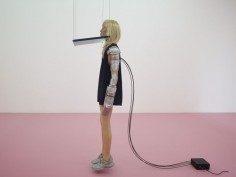 source: contemporaryartdaily
Known for his uncanny evocations of architecture and memory through exhibitions that imply a non-linear narrative, Wekua here creates a psychologically charged interior. A figure, at once robotic and lifelike, is isolated in a clean gallery space, behind a forbidding block wall that restricts the view to the outside world. The device from which the figure hangs suggests a playground swing, yet he or she hangs in a physically impossible position. Wekua poses questions about interior and exterior, private and public space, performance and imprisonment, revelling in an ambiguity that serves to provoke the viewer's imagination..
.
.
.
.
.
.
.
source: nombreworld
Andro Wekua has transformed the London gallery Sprüth Magers by installing a wall constructed of rough breeze blocks, partially obscuring the view into the space through the large bay window. While from the exterior the blocks will be untreated and exposed, the interior side of the wall will have a smooth white surface as if to disguise it from within, allowing the wall to blend seamlessly into the interior space. Within the gallery, Wekua will suspend from the ceiling a life-sized sculpture of an androgynous adolescent.
.
.
.
.
.
.
.
source: peterkilchmann
Andro Wekua was born in 1977 in Sochumi, Georgia. He frequented the National Art School in Sochumi from 1986 to 1991. In 1993, a one-year study at the Philosophical Institute "Gogebaschwili" in Tiblissi, Georgia, followed. He has then attended the Visual Art School in Basel for four years from 1995. Andro Wekua lives and works in Zurich and Berlin creating collages, drawings, sculptures, videos and installations.
A memory does not belong to the past but is very contemporary. Many of them are not singular, autopoietic, but related to other memories and influenced by them. The realities they create are therefore not fresh or recent, but always imbued with the scars and collective traumata of the past. Remembrance is a space into which fiction might wander unbidden, or be welcomed and lavishly hosted. Remembrance makes unreliable narrators of us all.
Wekua's paintings, collages, films, sculptures, texts and ephemeral miscellanea bring together diverse topographic and geographic entities, histories, and characters, each woven into a net. There are images, taken from the artist's personal albums or found loosely as postcards, books and in television. These images belong not only to him, but to all of us as a community. Wekua's oevre verges on sculptural manifestations of memories, the precise distillation of this ephemeral source. They are fashioned from scraps of family photographs, popular imagery conversations. In other words, they are not unlike memory, which is also a pastiche, paraphrased by photographs, endlessly repeated stories and dreams, bearing truth and truth and falsehood at the same time.
In his creations, Andro Wekua draws on his own biography as a resource, weaving it into fiction. Shaped into myth and saga, his story serves as an exhaustless reservoir of new ideas, mainly referring to childhood; boys and girls incorporate this flashback appropriately as symbols of the beginning of every life story and the openness with which it unfolds.
The artist's repertoire is abundant in variety: he makes films, creates clay figures with wondrously glazed surfaces, produces collages that combine photography, drawing and painting and he paints on canvas in a style that manifests both mannerism and virtuosity. The narrative traces that the artist incorporates into his work remain vast, as do the titles of his paintings: more is concealed than explained, and as a result the works gain the potential for action, referring to something far beyond whatever is represented by their physical frame.