benjamin bergery and jim campbell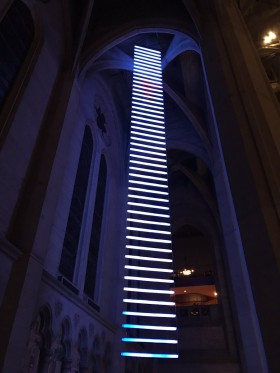 Jacob'dream: a luminous path
San Francisco-based electronic-media artist Jim Campbell creates work that combines film, light emitting diodes (LEDs) and sculptural elements. His choice of materials is often complex, and he uses them to create imagery that is allusive and open-ended. His exploration of the distinction between the analog world and its digital representation metaphorically parallels the difference between poetic understanding versus the mathematics of data.
matthew bird
parallaxis
In a new moving-image work by Melbourne-based artist and architect Matthew Bird, two bodies move across the land, working with large cylindrical instruments. We witness them map and survey a terrain analogous to universal physical and psychological locations, each revolution marking a paradoxical attempt to pin an earthly position through perpetual movement. Playing on the human need to understand our relationship to the people and places around us, Parallaxis considers the potential for architectural processes and measurements to act as a foundation for structures of understanding.