Shinseungback Kimyonghun
flower
Flower presents a series of distorted flower images which have still been recognised as "flower" by a computer vision.
Liam Young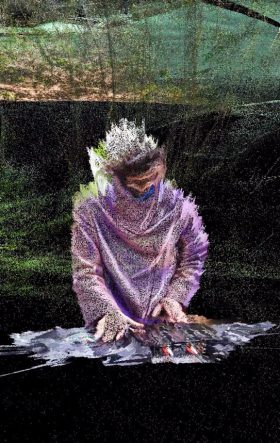 Where the City Can't See
Directed by speculative architect Liam Young and written by fiction author Tim Maughan, 'Where the City Can't See' is the world's first narrative fiction film shot entirely with laser scanners, designed in collaboration with Alexey Marfin. The computer vision systems of driverless cars google maps, urban management systems and CCTV surveillance are now fundamentally reshaping urban experience and the cultures of our city. Set in the Chinese owned and controlled Detroit Economic Zone (DEZ) and shot using the same scanning technologies used in autonomous vehicles, we see this near future city through the eyes of the robots that manage it. Exploring the subcultures that emerge from these new technologies the film follows a group of young car factory workers across a single night, as they drift through the smart city point clouds in a driverless taxi, searching for a place they know exists but that the map doesn't show.