Unlimited Corridor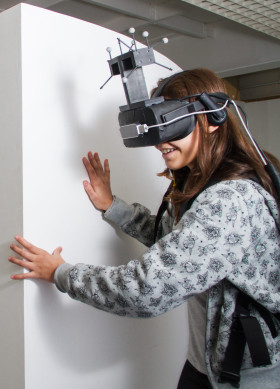 Keigo Matsumoto, Yohei Yanase, Takuji Narumi & Yuki Ban
FILE FESTIVAL 2018
"Unlimited Corridor " é um sistema de VR que permite a experiência de percorrer um vasto mundo virtual num espaço físico estreito, manipulando a percepção espacial. Esta obra utiliza uma técnica chamada andar visual-háptico redirecionado que utiliza a incerteza da percepção espacial humana e a interação entre visão e senso háptico.
.
"Unlimited Corridor" is a VR system that allows the experience of traversing the space of a vast narrow physical virtual world, manipulating spatial perception. This work uses a technique called redirected visual-haptic spatial walking that utilizes the uncertainty of human perception and the interaction between vision and haptic sense.