JEONGMOON CHOI
Three-Dimensional UV Thread Installations
El artista Jeongmoon Choi utiliza la luz y el hilo para crear instalaciones que juegan con los aspectos de la perspectiva y la ilusión. Con reminiscencias de algo producido en un espectáculo de luces láser, sus campos tridimensionales formados por líneas lumínicas, están instalados en un espacio ultravioleta para crear entornos interactivos.
Gilles AZZARO – Voice Sculptor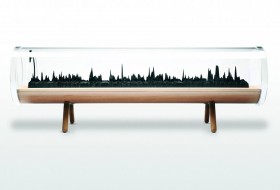 질 아자로
BARACK OBAMA: NEXT INDUSTRIAL REVOLUTION
This monumental 3D Printed sculpture is the three-dimensional materialisation of President Obama's voiceprint. The 3D voiceprint portrays an extract of President Obama's February 2013 State of the Union Address. It represents the materialisation of the very thoughts and words of the President of the USA. The sculpture is interactive. A movement sensor activates the system and a laser beam scans the 3D recording to reveal the President's words and message. The work was printed using a 3D desktop printer and the housing designed by Patrick SARRAN.