Håkan Lidbo & Max Björverud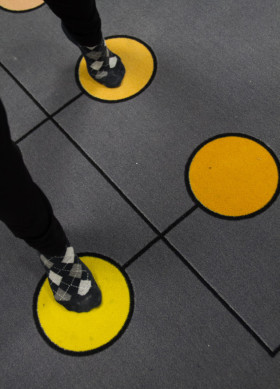 FILE SAO PAULO 2017
THE FLOOOR
"The Flooor" is a collaborative music instrument and a social meeting place. 36 sensors under a carpet, connected to a music computer mounted under the floor and loudspeakers mounted in the ceiling.
The patterns printed on the carpet invite people to explore different combinations. 6 groups with different instruments, 6 zones in each group. By standing or dancing on different combinations of the 6 zones, 64 different loops can be triggered.