JUNO CALYPSO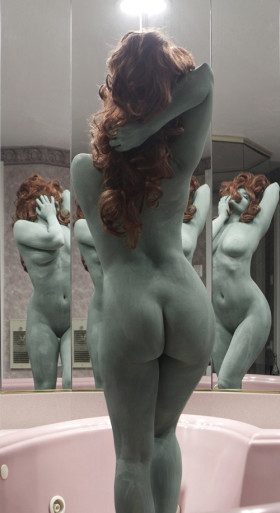 A Dream in Green
Seduction has begun in secrecy. A green clay body-mask beauty routine becomes a science-fiction metamorphosis.
Stine Deja
Synthetic Seduction
Foreigner
Stine Deja and Marie Munk
The title of the exhibition was inspired by Sherry Turkle's theory of how technology seduces us, making emotions "easy" by offering human relationships without the complexity of being together 'face to face'. But if machines can become attentive and emotional, what is left to distinguish us as human beings? We are facing a paradigm shift in how we understand ourselves physiologically, as data and algorithms, and are being forced to question the role of our biological body. As the relationship between artificial and human intelligence becomes increasingly intermingled in our everyday lives, Synthetic Seduction provides immersive and timely insight into the limits of human empathy and intimacy. We are glad at SixtyEight Art Institute to host such a space for thought. We hope it will start conversations and maybe even encourage some intimacy among our visiting audiences in the coming weeks.