Antistructure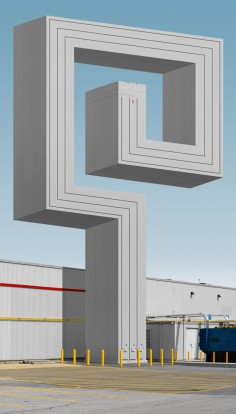 source:ignantcom
Ontario-based photographer Alex Lysakowski sets his surreal structures amongst banal industrial landscapes, creating photographs through digital manipulation that simultaneously confound and delight in his series 'Antistructures'.
"My work explores industrial architecture, structural landscape and photo manipulation", Lysakowski explains to IGNANT. "I create images with surreal and uncanny structural interaction within banal surrounding landscapes, eluding to a transitional space between reality and fiction while still retaining realism within the atmosphere of the image." In 'Antistructure', Lysakowski renders the prosaic as something much more by stretching the forms of trucks, sheds, and buildings to the sky. While some extend upwards, others divert strangely; their geometric forms flexibly curving into shapes reminiscent of question marks. Lysakowski's masterful manipulation of these photographs serves to emphasize their surreal nature; each trompe l'oeil that follows seems simultaneously more unlikely, and more real, than the next.
.
.
.
.
.
.
.
source:plainmagazinecom
Amusing head-scratchers: a fitting description for the surreal, towering collection of architecture by photographer Alex Lysakowski in the series, Antistructures. Standing out against perfectly banal backdrops, Lysakowski creates structures of magnanimous and exaggerated proportions with a mix of photography and digital manipulation.
Playfully taunting reality with fiction, Lysakowski still manages to retain a touch of realism within the atmosphere of each image. Stretched vertically to towering heights or veering off to form strange geometric shapes, transport trucks and medium-scale buildings give off a comical effect. Yet as absurd as they are, we can't help ourselves from imagining how they would look from the inside.
Lysakowski's industrial landscape-inspired themes were inspired and influenced from an early age through engineering manuals, piping catalogues or structural reports belonging to his father, who worked in the chemical engineering industry. He currently lives and works in Ontario, Canada. Discover more of his work on his website and Instagram.
.
.
.
.
.
.
.
source:designboomcom
ontario-based photographer alex lysakowski explores industrial architecture and photo manipulation with his latest photoseries. his 'antistructures' are digital manipulations of buildings and other elements whose proportions have been stretched beyond possibility.
forcing tension between what is real and what is fake lysakowski exaggerates proportions in post-production. after exploring southern ontario he captures built elements and creates tetris-like structures that become surreal monuments, livening up an otherwise mundane setting.
in one photo, the roof of a highway hotel has been transformed into a winding snake-like structure. in another, the height of a truck's trailer has been extended tenfold.
in other series' titled 'structures', he continues his visual exploration of industrial landscapes, blending the formal elements of buildings with environmental light and the structures composition. the result is a series of sculptural elements that showcase the buildings whilst projecting a whimsical character onto them.
lysakowski's exposure to these landscapes is a result of his father working in chemical engineering. he grew up flipping through engineering manuals, piping catalogues and business reports filled with photos of monstrous structures in his home office.
"antistructure' is a body of work that focuses on exaggerated architectural forms within banal spaces,' explains alex lysakowski. 'the farcical nature of the manipulated structures creates a surreal world of absurdity in an otherwise mundane landscape eluding to an environment beyond the realm of any real architectural forms but still preserving the potential for their existence.'
.
.
.
.
.
.
.
source:fubiznet
L'artiste visuel canadien s'approprie le réel en lui donnant des aspects grandiose et grotesque. Dans sa récente série «Antistructure», Alex Lysakowski basé à Mississauga, au Canada, nous propose de découvrir des bâtiments industriels, des automobiles, mais aussi des monuments devenus invraisemblables grâce à la magie de la retouche photo. «Je crée des images avec des interactions structurelles surréalistes et étranges au sein de paysages banals. J'évite ainsi un espace de transition entre la réalité et la fiction, tout en conservant le réalisme dans l'atmosphère de l'image», indique-t-il.
Brouiller les pistes et concevoir des oeuvres qui oscillent entre imaginaire et tangible est ce qui l'inspire à créer à quotidien. «Mon processus est un mélange de fascination pour la frontière entre la réalité et la fiction, l'étude et la réconciliation des actions, les relations et les liens avec mon passé et un attrait […] pour le progrès technique et conceptuel de mon médium.» Suivez son travail sur Instagram.