THE NATIONAL MUSEUM OF QATAR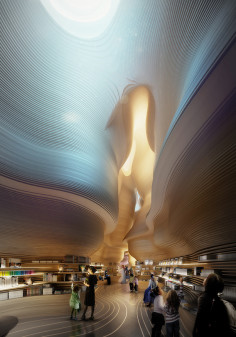 source:designboomcom
following the national museum of qatar's grand opening in march, koichi takada architects presents final photography from inside the museum gift shop and children's gift shop. the idea behind the interiors designed by the australian studio intend to complement the exterior 'desert rose' concept envisioned by french architect jean nouvel. this collection of images showcases the 'cave-like' museum shop space that has been created taking direct inspiration from qatar's natural 'cave of light' (dahl al misfir), which can be found in the heart of the country.
the incredible timber walls which dominate the space have been realized using 40,000 pieces of CNC-cut wood. by utilising 3D modelling software to create the curved foms and after carefully assembling all the components together by hand in doha, the result is an impressively cavernous spatial experience, evoking the organic forms of the cave of light. with this design, koichi takada intends to create a space that embraces the culture of qatar, from being in the narrow lane of a souq, to the vast expanse of the desert landscape.
in essence, the design and craftsmanship aims to form a relationship between people and nature, forming an architectural expression that is contextually relevant to the surrounding environment. the interiors also pay homage to jean nouvel's 'desert rose' inspired external architecture, and when put together, the building as a whole celebrates the natural qatari heritage of the desertscape.
.
.
.
.
.
.
.
source:dezeencom
Australian studio Koichi Takada Architects has completed two gift shops inside Jean Nouvel's National Museum of Qatar in Doha, featuring undulating wooden surfaces.
The two cave-like gift shops are the first of a number of interior spaces that Koichi Takada Architects is creating inside the new museum, along with three restaurants set to open later this year.
Now open to the public, the shops are intended to complement the organic form of the museum building by Atelier Jean Nouvel, which was unveiled in March.
The gift shop interiors are characterised by soaring wooden walls that create a series of cavernous enclosures from stacked wooden profiles.
A total of 40,000 pieces of wood, designed using 3D modelling, were used to construct the space.
Each piece is unique to its position in the structure, and fits flush only with its complementary segment. They were assembled by hand in Doha by the Italian carpenter Claudio Devoto.
More than a decade in the making, Atelier Jean Nouvel's National Museum of Qatar is recognised for its dramatic facade comprising a series of colliding discs, modelled on a mineral formation called the "desert rose".
To complement this aesthetic, Koichi Takada Architects based its design for the shops on the Dahl Al Misfir – a famous 40-metre-deep cavern in central Qatar – known for its glowing walls of gypsum crystals.
The layers of wood that make up the shops' interiors extend down like stalagmites in a cave to form columns and display shelves.
Meanwhile, light trickles from skylights that puncture the ceilings, also giving glimpses of the walls outside.
Koichi Takada Architects is an architecture studio founded by Koichi Takada in 2008 with offices in Sydney and Doha.
The studio won an international competition to design the museum's interiors in 2012. Alongside the two gift shops, it is constructing its Desert Rose Café, Café 875 and Jiwan Restaurant, which are set to open later this year.
Elsewhere in Qatar, preparation is currently underway for the World Cup in 2022.
Three significant projects include a golden stadium by Foster + Partners, the construction of an arena made from modified shipping-containers, and the near completion of a 40,000-seat stadium designed by the late Zaha Hadid.
.
.
.
.
.
.
.
source:archdailycombr
O design dos interiores de Koichi Takada Architects no Museu Nacional do Catar é uma narrativa da história do país. Os projetos são uma personificação da história do país, o início do comércio, estilo de vida nômade e belo ambiente natural. Através de muitas conversas com o povo local, os projetos evoluíram para traduzir a história em design visual e experiência memorável.
A Dahl Al Misfir (Caverna da Luz), localizada no coração do Catar, é um belo santuário subterrâneo formado em grande parte por cristais fibrosos que emitem um leve brilho fosforescente semelhante à lua. O gesso pode aparecer em formações de aglomerados, como a famosa "rosa do deserto", mas também pode cristalizar em outras formas fluorescentes e translúcidas, interagindo com a luz e transformando o espaço, evoluindo ao longo do dia.
As paredes de madeira das lojas do museu foram inspiradas por Dahl Al Misfir. Sua arquitetura orgânica ecoa a visão de Koichi Takada de trazer a natureza de volta à arquitetura, estabelecendo relações que conectam pessoas e elementos naturais através do design. Usando um software de modelagem 3D de ponta, conseguimos um design de curvas e superfícies que as palavras não descrevem.
Imagina montar 40 mil peças de madeira de um quebra-cabeça tridimensional? Cada peça de madeira, cortada em CNC na Itália, é totalmente única, de modo que só pode ser encaixada com sua peça complementar exata. Elas foram montadas à mão em Doha pelo mestre carpinteiro italiano, Claudio Devoto e sua equipe de artesãos. A intensidade do design e do artesanato é uma homenagem à arquitetura inspirada na rosa do deserto de Jean Nouvel e celebra a herança natural da paisagem desértica do Catar.