MONUMENT COLLECTION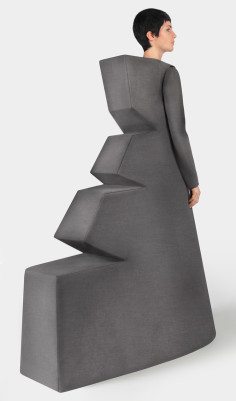 source:irenebrinationcom
Yuri Pardi's "Monument" collection, showcased at the graduate shows during summer, was definitely among the most original ones. A take on geometry and anatomy, the collection featured men and women's wear garments that looked as if they had been sculpted from grey concrete blocks. The pieces were instead made with grey wool and Pardi played with patterns, creating protrusions and rigid volumes supported by foam sheets that dramatically altered the shapes and silhouettes of the designs. This process allowed Brazilian-born Pardi to reduce the body to geometrical shapes in an exercise that called to mind the art of the Proto-Cubists or the Italian futurists, and that indirectly referenced the monumental modernism of Oscar Niemeyer or the concrete brutalism of Italian-born Brazilian architect Lina Bo Bardi.
Geometry, usually considered as a field of absolute clarity and the locus of rationality, turned therefore for Pardi into a way to create an irregular rationality that added surprise and emotion to a design. Ziggurat-like squarish blocks traced the back of a dress characterised by two minimalist seams running from the front to the back, a trick obtained by cleverly altering the pattern cutting; rectangle-shaped elements around the shoulders and the hips but invisible from the front disrupted instead the straight silhouette of a long gown. Menswear was altered via the same rectangular protrusions but featured highlights in darker shades of grey.
Pardi chose this nuance inspired by German artist Gerhard Richter's statement about grey being a neutral and inconspicuous shade, proving that this colour can instead force our eyes – stressed by the constant visual overload we are subjected to on a daily basis – to refocus on details, on the power of light and shadows and on a minimalist aesthetic of reduction.
Can you introduce yourself to our readers?
Yuri Pardi: I was born in Brazil and studied both at the University of Brasilia (Graphic/Product Design) and at the University of East London (Fashion Design). I am currently based in London.
Do you consider yourself an artist or a fashion designer and which disciplines inform your work?
Yuri Pardi: I believe every designer has to be an artist, but not every artist is a designer. I consider myself a designer in the wider sense of the word. The project methods and thinking in design can indeed be applied to any area, from graphics to fashion. Fashion is just the way of designing I prefer. However, designing for me is more than just about my personal expressive needs, since I strive for something that could convey a message pertinent to the present scenario. This leads me to naturally draw from art, architecture, design, philosophy, sociology and express it through clothing.
Your graduate collection has got something architectural about it, can you tell us more about the background inspirations?
Yuri Pardi: My latest collection is entitled "Monument" and explores the relationship between people as individuals and aspects that are collective and common to all humans. I have translated this idea into garments that morph from traditional tailoring techniques into perfect geometric shapes. The former represent the body, the individual; the latter hint instead at the universal, the equal. You can find further information about my collection in this feature and interview.
Did you get inspired by any specific buildings for the shapes and silhouettes included in the collection?
Yuri Pardi: No, the inspiration for the shapes came exclusively from the human body. Every shape reflects a segment of the body projecting outwards and forming a polyhedron.
What fascinates you about architecture and who are your favourite architects?
Yuri Pardi: The notion of space and being able to expand or contract space, reveal or hide it, according to the proportion and lighting. The simple physical existence of three-dimensional objects is really fascinating. There is something really primal and beautiful about perceiving an object in space. My favourite architects are John Pawson, Tadao Ando and Oscar Niemeyer.
Grey is the prevailing shade in your collection and it almost evokes concrete, does this material inspire you?
Yuri Pardi: Grey is the only colour in this collection, in two shades. It was chosen for a number of reasons, resembling concrete is one of them. The main reason for the choice was to give absolute focus to the shape as opposed to surface graphics or embellishments. The choice is perfectly explained with this statement by Gerhard Richter: "Grey. It makes no statement whatever; it evokes neither feelings nor associations: it is really neither visible nor invisible. Its inconspicuousness gives it the capacity to mediate, to make visible, in a positively illusionistic way, like a photograph. It has the capacity that no other colour has, to make 'nothing' visible."
Your pieces must also be very interesting pattern cutting-wise, can you tell us more about developing the patterns, was it challenging?
Yuri Pardi: Yes, it was very challenging. The patterns turned out to be very mathematical due to the precision needed to keep the shapes in place whilst still allowing freedom of movement to the wearer. I developed a combination of traditional tailoring with flat polyhedra keeping darts and seams to a minimum. The big dress for example is made entirely with only two seams.
What kind of fabrics did you employ for this collection?
Yuri Pardi: All the collection is made of only one fabric – synthetic wool – plus the interlining in polyester fusing. The only slightly different material used was foam sheets for the internal structure.
What plans do you have for the future?
Yuri Pardi: I am currently working as a fashion assistant and planning on creative opportunities. I have no plans of taking part in any fashion events for the time being.
.
.
.
.
.
.
.
source:dezeencom
Graduate shows 2015: garments appear to be carved from stone in University of East London graduate Yuri Pardi's Minimalism-influenced fashion collection.
Pardi showed his Monument collection during UEL's catwalk show on Sunday, as part of Graduate Fashion Week held at London's Old Truman Brewery.
His grey wool garments are intended to extend parts of the body to create minimal, angular forms. The rigid volumes that protrude from the back of each outfit are created by foam sheets tucked into pockets underneath the clothing.
"I designed garments that morph from the shapes of the body into 'pure' geometrical shapes," Pardi told Dezeen.
"I wanted to create a collection that could show that reduction and Minimalism are far from boring, and can be just as powerful as other visualities without being as loud," he said.
The most dramatic example is a basic dress extended backward with bulky squarish blocks, which are reminiscent of the armoured fins of a Stegosaurus.
Worn over a long-sleeved top, the floor-length dress only has two seams that run from front to back down the edges of the blocks.
"The challenge was to identify, on the flat pattern cutting, the moment when the traditional lines of tailoring proceed into the shapes of a flattened polyhedron and still keep the seams to a minimum," said Pardi.
In another outfit, two rectangular protrusions – one from the shoulders and one from the hips – are worn over a dark dress with a straight silhouette.
A similar outfit pairs a light-toned jacket and skirt, both with additions incorporated into the back that are not visible from the front.
Menswear in the collection includes a top with a straight vertical fastening offset on the front, which has an element with a triangular profile protruding from its upper back.
The garment also has sleeves that angle out at the elbow, highlighted with a darker shade.
The top is paired with trousers where the lighter material frames a rectangle of dark fabric on the inner legs and around the crotch.
This motif is replicated on a men's jumpsuit that also features the same angular sleeves.
Another wide-necked top has two volumes extended out from its back, separated by a triangular slice.
Two rectangular flaps of dark fabric cover the front and back of the pair of trousers worn in combination.
Influenced by the words of German artist Gerhard Richter, who said that grey "makes no statement whatever", Pardi produced the entire collection using two shades of the same grey wool.
"Making the whole collection in grey forces the eye to notice and find interest in the slight variations in light and shade that come with the shapes," said Pardi.
To create the garments, the Brazilian-born designer researched Minimalism across architecture, art and fashion, as well as Communist and religious uniforms, to trace common themes and reasons for the style.
"This reinforced my stance that today Minimalism is not just a wonderful way of expression but, above all, a necessity," Pardi said. "Undeniably, the world has become visually cluttered and the application of a Minimalist aesthetic could start a change of mindset towards reduction and simplification."
.
.
.
.
.
.
.
source:frfurniturehomewarescom
Graduate shows 2015: les vêtements semblent taillés dans la pierre de la collection de mode influencée par le minimalisme de Yuri Pardi, diplômée de l'Université de East London.
Pardi a présenté sa collection de monuments lors du défilé de UEL dimanche, dans le cadre de la Graduate Fashion Week organisée dans la brasserie Old Truman à Londres.
Ses vêtements de laine gris sont destinés à étendre des parties du corps pour créer des formes angulaires minimales. Les volumes rigides qui dépassent à l'arrière de chaque tenue sont créés par des feuilles de mousse glissées dans des poches situées sous le vêtement.
"J'ai conçu des vêtements qui se métamorphosent des formes du corps en formes géométriques" pures "", a déclaré Pardi à Dezeen.
"Je voulais créer une collection qui puisse montrer que la réduction et le minimalisme sont loin d'être ennuyeux et peuvent être aussi puissants que d'autres visualités sans être aussi forts", a-t-il déclaré.
L'exemple le plus dramatique est une robe de base étendue en arrière avec de gros blocs carrés, qui rappellent les ailerons blindés d'un Stegosaurus.
Portée par-dessus un haut à manches longues, la robe longue au sol ne comporte que deux coutures qui s'étendent de l'avant vers l'arrière sur les bords des blocs.
"Le défi consistait à identifier, sur la découpe à plat, le moment où les lignes traditionnelles de couture prennent la forme d'un polyèdre aplati tout en maintenant les coutures au minimum", a déclaré Pardi.
Dans une autre tenue, deux protubérances rectangulaires – une des épaules et une des hanches – sont portées par-dessus une robe sombre à la silhouette droite.
Une tenue similaire associe une veste et une jupe claires, avec des ajouts dans le dos non visibles de l'avant.
Les vêtements pour hommes de la collection comprennent un haut avec une fermeture droite verticale décalée sur le devant, qui comporte un élément à profil triangulaire dépassant du haut du dos.
Le vêtement a également des manches qui forment un angle au coude, accentuées avec une nuance plus foncée.
Le haut est associé à un pantalon où la matière plus claire encadre un rectangle de tissu sombre sur les jambes intérieures et autour de la fourche.
Ce motif est reproduit sur une combinaison pour homme qui comporte également les mêmes manches angulaires.
Un autre haut à col large a deux volumes étendus à partir de son dos, séparés par une tranche triangulaire.
Deux rabats rectangulaires en tissu foncé recouvrent le devant et le dos du pantalon porté en combinaison.
Influencé par les mots de l'artiste allemand Gerhard Richter, qui a déclaré que le gris "ne fait aucune déclaration", Pardi a produit toute la collection en utilisant deux teintes de la même laine grise.
"Rendre l'ensemble de la collection en gris force l'œil à remarquer et à s'intéresser aux légères variations de lumière et d'ombre qui accompagnent les formes", a déclaré Pardi.
Pour créer les vêtements, la designer brésilienne a étudié le minimalisme dans l'architecture, l'art et la mode, ainsi que dans les uniformes communistes et religieux, afin de retracer les thèmes communs et les raisons du style.
.
.
.
.
.
.
.
source: xoxothemagnet
Anıt adı verdiği koleksiyonunu yün kullanarak hazırladığını belirten Yuri, koleksiyonundaki her parçanın arkasına sert hacimli levhalar ekleyerek saf geometrik parçalar ile minimalizmin sıkıcılığını vurgulamış. Karşıdan baktığımızda günlük bir kıyafete, arkadan baktığımızda ise bir kaya parçasına benzeyen tasarım, anlatmak istediğini vücut ve geometrik şekillerin uyumu ile dile getiriyor. Koleksiyonunda kadın ve erkek parçaları bulunduran Pardi, kullandığı gri ve antrasit renkler ile koleksiyonunu güçlendirerek mesajının sektörde beton etkisi yaratmasını sağlamış.