آلان راث
Watcher VIII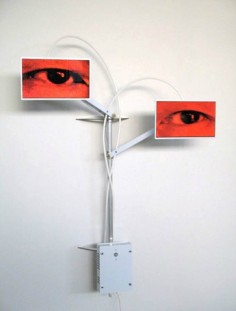 source: hosfeltgallery
A pioneer in the field of electronic art, Alan Rath builds mechanical sculptures infused with uncannily life-like characteristics. LCD screens mounted on sculptural armatures display body parts moving in algorithmically generated sequences of shifting colors, tempos, and orientation. The features portrayed are those particular to perception and expression, such as eyes, mouths, and hands. Programmed with an infinite progression of permutations, the imagery on the LCD screens slowly changes over time, in unexpected and unpredictable ways. Although we recognize these as mediated digital images, the essential animate qualities depicted, integrated into elegantly crafted structures, impart a certain mechanical consciousness, both humorous and eerie.
Though often viewed solely through the lens of "digital art" or "new media," Rath's work is first and foremost sculpture, constructed with a deeply refined sense of formal elegance and a broad understanding of art historical context. The formal sophistication extends into the smallest of details, with a remarkable attention to functionality. Rath ingeniously designs and assembles every component of a work such that it can be easily dismantled, transported, and reassembled without the need of tools. He is also a key participant in the discourse around preservation of new media artwork against the inevitable course of technological evolution and obsolescence, and these concepts are incorporated into the fabrication of every aspect of his work.
In Rath's mind, there is no separation between the human and the technological – it is merely our perception that technology is external and different. "Machinery is not unnatural," he says. "It's a reflection of the people who make it." In a poetic integration of art, nature and technology, Rath's sculptures communicate with us beyond the confines of language.
Rath received a BS in Electrical Engineering from the Massachusetts Institute of Technology (MIT) in 1982. His contributions to the field of contemporary sculpture and new media have received significant acknowledgement worldwide. His work is in such major collections as the San Francisco Museum of Modern Art, the Whitney Museum of American Art (New York), the Walker Art Center (Minneapolis, MN), the Los Angeles County Museum of Art, and the Hara Museum (Tokyo). Rath lives in San Francisco, CA.
.
.
.
.
.
.
.
source: artsynet
Exploring the intersection of art and technology, Alan Rath renders electronics an art form with his electric, kinetic, and robotic sculptures. Wall Throbber (1998), for instance, is a device made from aluminum, electronics, a speaker, and light fixtures, that causes a red ball to bounce gently. More recent works incorporate digital media such as moving images in a manner that humanizes technology. In Watcher VII (2011), two screens showing close-up images of expressive human eyes jutting out from either side of an anthropomorphic white metal structure. He imbues these sculptures with lifelike qualities, working from his assumption that people will project human qualities onto machines when prompted and will even go so far as to perceive them as having personalities. The work celebrates technology's potential for good while alluding to the dangers that lurk below the surface.