阿兰达\拉希
アランダ\ラッシュ
Railing Lounge Chair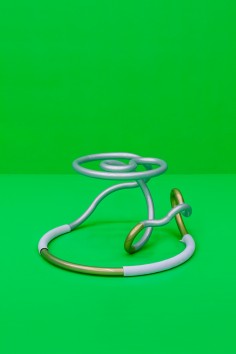 source: arandalasch
Railing is a new collection of furniture pieces designed by ArandaLasch. At Design Miami 2015, Gallery ALL will present the first three elements of the collection R1, R2 & R3: two chairs and a stool.
Railing is an exploration of structural modular loops that are upholstered like handle-grips to become furniture. Each piece of furniture is a single loop made up of many circles. Here, the circle does not display the qualities it is most known for, but it is what a circle can be. It is not whole or complete but is instead growing into itself. It is a circle that refuses its own dimension and finitude, that struggles to be endless.
151124_process-diagram-01
The Railing collection continues ArandaLasch's research into modularity through a novel language of arcs. Though the pieces in the collection vary in size, shape, function and complexity, each one carries the same logic of a single line that curves through a lattice of fractal circles and comes back to itself to form a continuous loop. This system allows all distinct pieces to be created from the same set of modular stainless steel pipe arcs. The upholstery wraps the metal in a selection of colors and materials, extending the material language of handle-bar grips into a loopy dimension. The three pieces at Design Miami are presented in both silicone foam and hand-sewn leather upholstery..
.
.
.
.
.
.
.
source: digitaltrends
Take a spin around the site Behance to see that designers have some of the most revolutionary, if not altogether practical, ideas about how everyday objects could be transformed. At the Swiss Institute's second annual architecture and design exhibition, Pavillion De L'Esprit Nouveau: A 21st-Century Show Home, some interesting takes on the futuristic home were on display.
Named after Le Corbusier's 1924 Paris exhibition, the installation was curated by Felix Burrichter, the editor of Pin-Up magazine. "All featured pieces bear key elements in either fabrication or material that highlight industrial progress made in the last 15 years such as laser cutting, 3D printing, advanced LED-technology, non-woven textiles, and ultra-light carbon-fiber," according to Swiss Institute. It also explores "the blurred lines in a culture of digital escapism and surveillance," as evidence by the combination gym and office.
Because it's a furniture show, much of the futuristic aspects deal with the materials and the technology that may be used to create our living spaces in the decades to come. But technology will obviously be present in home, too. The bright color that dominates the installation was meant to mimic a green screen. "In essence, we have designed the 21st-century home as a parallel entity accessed through many digital windows," exhibition designer Shawn Maximo tells All Day.
Some of the unique pieces include the Med-Bar by Nanu Al-Hamad, which was created using hospital furniture. Dandelion seeds and LEDs mingle in a lamp called Fragile Future from Piero Lissoni and Paul Kobkau. And of course, this being the future and all, there's a Soylent-dispensing machine. Artist Sean Raspet created a new flavor of the meal-replacement beverage.
.
.
.
.
.
.
.
source: swissinstitutenet
Swiss Institute is delighted to present the 2nd Edition of its Annual Architecture and Design Series entitled PAVILLON DE L'ESPRIT NOUVEAU: A 21st Century Show Home. Curated by Felix Burrichter, the editor and creative director of award-winning architecture and design magazine PIN–UP, the exhibition channels the visionary irreverence of Le Corbusier for a 21st century take on domesticity.
When Swiss-born architect Le Corbusier participated in the 1925 Paris Exposition des Arts Décoratifs, his contribution – the original Pavillon de l'Esprit Nouveau – caused an uproar among the fair's organizers. In a commercial trade show intended to facilitate the promotion of the Art Déco style, his aesthetic was dismissed as antithetical. In retrospect, however, Le Corbusier's Pavillon de L'Esprit Nouveau acted as a manifesto that introduced revolutionary design concepts, such as building standardization, mass-production as it applies to furnishings and interiors, and the mechanization of the home. These ideas would resonate for decades to come, largely influencing post-war housing schemes and décor throughout the rest of the 20th century.
In homage to the original Pavillon de l'Esprit Nouveau, Burrichter's exhibition acts as a conceptual show home for the 21st century. Ninety years after the original debuted in Paris, this contemporary PAVILLON DE L'ESPRIT NOUVEAU explores new modes of domesticity, as well as innovation in furniture design, where craft co-exists with computational expertise. The exhibition features over 30 international designers and artists, most of whom are participating with specially commissioned works. All featured pieces bear key elements in either fabrication or material that highlight industrial progress made in the last 15 years such as laser-cutting, 3D-printing, advanced LED-technology, non-woven textiles, and ultra-light carbon-fiber.
In addition to serving as a platform for new design, PAVILLON DE L'ESPRIT NOUVEAU is also an interactive, architectural experience. Divided into softly delineated zones, each increasing in levels of privacy, the exhibition design by architect and artist Shawn Maximo makes use of digital rendering technology and Chroma key compositing. The 21st century show home incorporates scenarios of different domestic environments, exploring the blurred lines in a culture of digital escapism and surveillance.
In the characteristically confident words of Le Corbusier, the Pavillon's 2015 iteration at Swiss Institute aims to capture "a turning point in the design of modern interiors and a milestone in the evolution of architecture."
The exhibition will include works by:
Lindsey Adelman, Nanu Al-Hamad, Aranda\Lasch, Alessandro Bava, Josh Bitelli, Camille Blin, Laureline Galliot, Konstantin Grcic, Paul Kopkau, Kram/Weisshaar, Joris Laarman, Max Lamb, Le Corbusier, Piero Lissoni, Philippe Malouin, Shawn Maximo, Jasper Morrison, Jonathan Muecke, Marlie Mul, Ifeanyi Oganwu, Leon Ransmeier, Sean Raspet, Jessi Reaves, Guto Requena, RO/LU, Rossi Bianchi, Julika Rudelius, Soft Baroque, Robert Stadler, Ian Stell, Katie Stout, Elisa Strozyk, Studio Drift, Patricia Urquiola, Christian Wassmann, Bethan Laura Wood.
.
.
.
.
.
.
.
source: arandalasch
Aranda\Lasch designs buildings, installations and furniture through a deep investigation of structure and materials. Recognition includes the United States Artists Award, Young Architects Award, Design Vanguard Award, AD Innovators, and the Architectural League Emerging Voices Award. Their early projects are the subject of the book, Tooling. Aranda\Lasch has exhibited internationally in galleries, museums, design fairs and biennials. Current building projects include stores in Miami, an outdoor theater in Gabon, and an Art Park in Bali. Aranda\Lasch continually develop furniture products and are represented by Gallery ALL. Their work is part of the permanent collection of the MoMA in New York.
.
.
.
.
.
.
.
source: artlog
At the design and architecture firm Aranda/Lasch, repetition is not redundant, it is a gateway to infinite possibilities. Through their study of crystals and implementation of computer algorithms, Benjamin Aranda and Chris Lasch apply the rules of solid-state matter to architecture.
Looking to modularity for inspiration, they sample structures as small as a molecule to constructs of cosmological size. Their designs represent a divergent path in sustainable architecture: rather than plant growth and curves, think of crystal growth and hard edges.