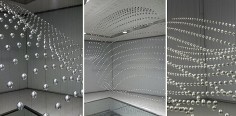 source: artcom
The Kinetic Sculpture is a metaphorical translation of the process of form-finding in art and design.
714 metal spheres, hanging from thin steelwires attached to individually-controlled stepper motors and covering the area of six square meters, animate a seven minute long mechatronic narrative. In the beginning, moving chaotically, then evolving to several competing forms that eventually resolve to the finished object, the kinetic sculpture creates an artistic visualisation of the process of form-finding in different variations.
By the mid-1980s an interdisciplinary group of designers, architects and artists coming from various departments of the Berlin University of the Arts and hackers from the ChaosComputerClub foresaw that the upcoming digital technology was not only a tool, but potentially a (mass) medium. Therefore ART+COM was founded as an non-profit organisation to explore the new mediums applied possibilities in the fields of art, design, science and technology.
In 1994 when ART+COM received commissions of commercial projects the organisation became officially a company with limited liability. Since 1998 the design studio is owned mainly by its employees, board members as well as the former organisation members.
From the very beginning ART+COM has pioneered the development of this medium, and has conceived and realized communication
formats, design principles and technologies that have become pervasive concepts in today's world. Ranging from artistic installations and design-focused projects to technological innovations and inventions, ART+COM's work includes different kinds of formats: Autoactive, reactive and interactive objects and installations, media-based environments and architectures.
Although often very complex, the projects are always driven by the content and not by the technology. Despite having grown and professionalised its operations, ART+COM remains dedicated to its original cause from 25 years ago: to design innovative and original projects to pave the way for the future of media-based communications.