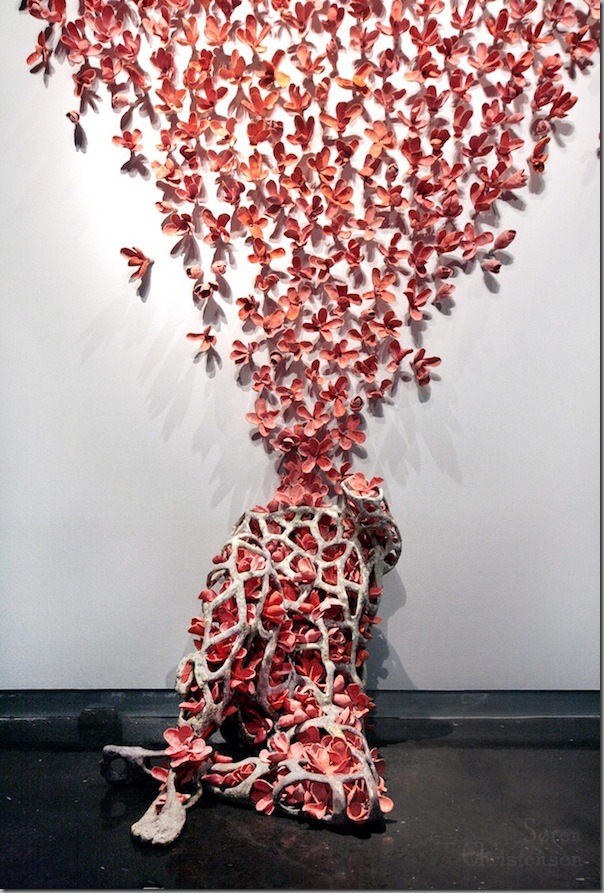 source: mymodernmet
For LSU Musuem of Art's exhibit titled Uniquely Louisiana, artist Bradley Sabin has created an incredibly surreal looking installation made up of 1500 ceramic flowers. Called Interface, it shows a human figure sitting against a wall whose body and head have been transformed into a stunning array of pink magnolia flowers. The impressive artwork takes up an entire gallery wall. According to Sabin, the installation "reflects a dream-state where the plant world and the human world merge."
Uniquely Louisiana, which runs from now through November 11, displays 50 pieces that are inspired by the Louisiana environment, including its intriguing plant and animal life. Louisiana's official flower, the magnolia blossom takes center stage in Sabin's work. As for how the flowers were created, Sabin says "they're all ceramic, and each of the petals are made separately, then pressed together to make a flower." In order to make the flowers look as if they're magically floating up the wall, he had to screw nails into them and then drill actual holes into the gallery wall.
.
.
.
.
.
.
.
source: callancontemporary
The inspiration for my ceramic sculpture is the natural world around me. I moved to Louisiana 15 years ago from Michigan and since that time have used my observations and love of gardening as my library of forms. I equate the care and time needed to have a healthy garden to human relationships that also require nurturing and protecting to flourish. In my recent installations of flowers and budding antler/branch forms I think of the work as surrounding and protecting the viewer like arms wrapped around you.
The ultimate goal for me would be to have my work create the same sense of awe and wonder that is achieved when seeing something amazing in our natural world.