Isostasy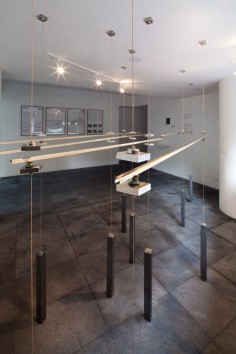 source: arquitectura2022blogspot
Nascida em 1976, é arquitecta e investigadora independente desde 2000 no Rio de Janeiro.
Nos tempos de estudante chegou a trabalhar com a arquitecta Gisela Magalhães, da geração de Niemeyer, principalmente envolvida nas áreas de exposições relacionadas com as artes nativas brasileiras e museus históricos.
Após a faculdade, trabalhou em conjunto com o arquitecto Mário Fraga no projecto "Atelier Casa".
Terá encetado numa série de projectos como por exemplo, o "Rio Bonito casa" (2005), a "Varanda House" (2007), a "Casa Mínima" (2008), "Santa Teresa House" em sua fase final (2012).
Numa fase mais recente inclui-se o pavilhão efémero concebido com a cenógrafa e directora de teatro Bia Lessa, "Humanidade 2012" para a Rio +20, uma reunião internacional realizada no Rio de Janeiro.
Carla Juaçaba é presença constante do meio académico e de ensino, bem como da pesquisa e investigação, palestras, exposições, bienais e, recentemente foi Júri no BIAU Bienal Ibero Americana em Madrid (2012).
Actualmente, está ensinando na FAU PUC-RJ Pontifícia Universidade Católica.
.
.
.
.
.
.
.
source: liga-df
La arquitecta brasileña Carla Juaçaba parte de la idea que toda arquitectura es un esfuerzo físico: la tarea de edificar implica trabajo, fuerza ejercida a la materia y la introducción de una concepción abstracta en el contexto terrenal. Imanes de alta potencia, cuerdas de guitarra, canicas de vidrio verde, rondanas metálicas y delgados perfiles de latón crean una composición en equilibrio que alude a situaciones estructurales similares a las de sus edificios construidos. La instalación pone en evidencia las tensiones físicas, casi telúricas, con los que la arquitectura ordena el material y se enfrenta a la gravedad.
El título de la exposición, Isostasia, se refiere a la condición ideal de equilibrio gravitatorio que regula las alturas de los continentes y de los fondos oceánicos, de acuerdo con las densidades de las masa rocosas. El término surge en 1889, cuando el geólogo norteamericano Dutton describe este fenómeno de equilibro hidrostático en las placas tectónicas. Como si la arquitecta lo hubiera planeada con antelación en relación directa con el título y concepto de la muestra, esta frágil instalación colapsa el 20 de Marzo 2012 –apenas 25 días después de su inauguración– cuando un terremoto de magnitud 7.4 grados Richter sacude la Ciudad de México. Aunque el incidente se cobró varias pérdidas, la pieza –que expresa justamente la fragilidad de un sistema constructivo en balance– fue restaurada completamente algunas días después.
.
.
.
.
.
.
.
source: carlajuacaba
Since 2000, Carla Juaçaba developed her independent practice of architecture and research based in Rio de Janeiro, Brazil. Her office is currently engaged in both public and private projects, focusing on housing and cultural programs.Since undergraduate student she worked with the architect Gisela Magalhães of the Niemeyer's generation, mostly in the area of exhibitions related to the Brazilian native arts and historical museums.
During her first year after college (2000) she worked on the project named "Atelier House". Following that, a series of projects have been conceived such as the "Rio Bonito house" (2005), the "Varanda House"(2007), the "MinimalHouse" (2008),"Santa Teresa House" and the "Hospice" in its final stage (2014), and a couple of exhibition design. Current works includes the ephemeral pavilion conceived with the senior scenographer and theather director Bia Lessa, "Humanidade" for Rio+20, the recent international meeting held in Rio de Janeiro.
Carla Juaçaba is constantly a part of the academic and teaching realms, as well as research studies, lectures (Harvard GSD; University of Toronto – Daniels; Columbia GSAPP; UF University of Florida; Escola da Cidade-SP; Woodburry University; Latitudes-University of Texas at Austin), Workshop at IUAV di Venezia 2014; , biennales ( La Biennale Di Venezia – Pavilion of Brazil ), exhibitions and recently was the Jury at BIAU Bienal Ibero Americana in Madrid (2012). She won the first edition of the international prize ArcVision Women and Architecture in 2013, and recently was nominated for the Schelling Architecture Award 2014; MCHAP Mies Crown Hall Americas Prize and the BSI Swiss Architectural Award.
.
.
.
.
.
.
.
source: liga-df
Brazilian architect Carla Juaçaba starts from the idea that all architecture is a physical effort: the task of building implies work, forced exerted on matter and the introduction of an abstract conception in the context of the terrain. High power magnets, guitar strings, marbles of green glass, metal pulleys and small brass strips create a composition in equilibrium that alludes to structural situations similar to the ones she has constructed. This installation highlights almost telluric physical tensions, with which architecture orders material and confronts gravity.
The title of the show, Isostasy, refers to the ideal gravitational equilibrium that regulates the height of continents and the depths of oceans, according to the density of rock-like masses. The term was first coined in 1889, when US geographer Dutton described this phenomenon of hydrostatic equilibrium of tectonic plates. As if the architect would have planned it in advance, in direct relation to the title of the show, this fragile installation collapsed on May 20, 2010, only 25 days after its inauguration, when an earthquake of a 7.4 magnitude on the Richter scale shook Mexico City. Even though the incident caused some losses, the work, which precisely expressed the fragility of a construction in equilibrium, was fully restored a few days later.