Architectureworld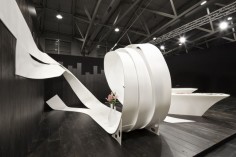 source: danpearlman
At Architectureworld 2011, dan pearlman presented the HI-MACS® brand for LG Hausys.
The Trade Fair Stand had a Spa & Wellness theme, inviting visitors to make a voyage of discovery: Externally, variable white bands dominate the stand. Together, they merge to a form a single, big wave which, resembling a bivalve, forms a clearly demarcated exhibition space which allows visitors to experience the material's individual design scope and numerous processing options with all of their senses.
.
.
.
.
.
.
.
source: wazaorg
dan pearlman is a strategic creative agency, working with 40 people across the areas of brand and leisure, strategy and implementation.
This means two things. First, we take a 360° degree approach. We cover the entire spectrum, from strategic positioning and developing creative ideas to implanting them in architecture and design.
Second, we do not make a distinction between strategy and creativity. Each one shapes the other and they should be developed simultaneously. Joined-up thinking – strategically creative and creatively strategic.
Our people are highly talented. They are passionate about their own area of specialization. But they are also able to see the bigger picture, and beyond.