دانيال ليبسكيند
丹尼尔·里伯斯金
דניאל ליבסקינד
ダニエル·リベスキンド
Даниэль Либескинд
beyond the wall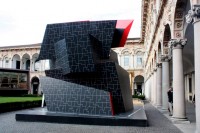 source: dsgnrcl
"beyond the wall" por el arquitecto Daniel Libeskind explora la arquitectura como algo más que la estética y la técnica, y más bien como una fuente para la creatividad y de conocimientos que vive y respira, que se caracteriza por un interior y un exterior, con un cuerpo y un alma, como el ser humano ". La instalación actualmente en exposición se basa en la idea de una espiral radiante que representa como una serie compleja de apiladas geometrías angulares con diferentes ejes centrales empujan y tiran en direcciones opuestas.
Llamado un "mosaico matemático ', la estructura presenta las características de un sin fin fractal – el silestone bacteriostático de superficie de cuarzo está grabada con una continuación de las geometrías que representa el azulejo contemporáneo, o 'fractil', Tesselated pero nunca repetida o idéntica. El tratamiento superficial único ha sido desarrollado por el Grupo Cosentino, que produce superficies de alta calidad arquitectónica y propósitos de diseño. El patrón es esencial hasta la concentración global, rompiendo la escala y la proporción de los planos de torsión a medida que suben a la cima de la construcción.
.
.
.
.
.
.
source: designboom
'architecture is a language which is able to narrate the story of the human soul.'
– daniel libeskind
'beyond the wall' by architect daniel libeskind explores architecture as more than aesthetics and technique, and rather as a source for creativity and knowledge that 'lives and breathes, characterized by an interior and an exterior, with a body and a soul, like the human being.' the installation currently on display is based on the idea of a radiating spiral rendered as a complex series of stacked angular geometries with different central axes
that push and pull in opposing directions. dubbed a 'mathematical mosaic', the structure exhibits the characteristics of an endless fractal — the bacteriostatic quartz surface silestone is etched with a continuation of geometries that represents the contemporary tile, or 'fractile', tesselated but never quite identically repeated. the unique surface treatment is developed by the consentino group, who produces high-quality surfaces for architectural and design purposes. the pattern is essential to the overall massing, breaking down the scale and proportion of the twisting planes as they rise to the zenith of the construction.
.
.
.
.
.
.
source: daniel-libeskind
Born in Postwar Poland, Libeskind immigrated to America with his family becoming an American citizen in 1964. He studied music in Israel (on the America-Israel Cultural Foundation Scholarship) and in New York, and became a virtuoso performer. He left music to study architecture, receiving his professional architectural degree in 1970 from the Cooper Union for the Advancement of Science and Art in New York City. He received a postgraduate degree in History and Theory of Architecture at the School of Comparative Studies at Essex University (England) in 1972.
Since establishing his practice in Berlin in 1989, Mr. Libeskind has designed major cultural, commercial and residential projects around the world. These include the master plan for the World Trade Center and the Jewish Museum Berlin. In October of 2011, his firm, Studio Daniel Libeskind, completed its redesign of what is now Germany's largest museum, the Military History Museum in Dresden. The same month Hong Kong's City University celebrated the opening of the Libeskind-designed Run Run Shaw Creative Media Centre. Other recent projects include the Grand Canal Theatre project, a major addition to Dublin's docklands and the city's cultural core; Crystals at CityCenter, a 500,000-square-foot retail complex that is the centerpiece of MGM Mirage's signature development on the Las Vegas Strip.
The Studio has several projects under construction, including City Life's redevelopment of the historic Fiera Milano Fairgrounds in Milan; Kö-Bogen, an office and retail complex in Düsseldorf; two high-rise developments, The L Tower in Toronto and Reflections at Keppel Bay, a two-million-square-foot residential development in Singapore; Zlota 44, a residential high rise in Warsaw; and Haeundae Udong Hyundai l'Park, a mixed-use development in Busan, South Korea, which when completed, will include the tallest residential building in Asia.
Projects in development include Archipelago 21, the master site plan for the Yongsan International Business District in Seoul; the Institute for Democracy & Conflict Resolution, for the University of Essex in England; Vitra, a residential tower in Sao Paulo, Brazil; and the Central Deck and Arena in Tampere, Finland, a mixed-used development that contains an ice hockey arena large enough to seat 11.000 visitors.
Among the many Libeskind buildings that have received worldwide acclaim are The Felix Nussbaum Haus, in Osnabrück, Germany (1998); the Imperial War Museum North in Manchester, England (2002); the extension to the Denver Art Museum and the Denver Art Museum Residences (2006), the Royal Ontario Museum (2007) and the Glass Courtyard, an extension to the Jewish Museum Berlin,(2007); the Ascent at Roebling's Bridge, a residential high-rise in Covington, Kentucky (2008); the Contemporary Jewish Museum in San Francisco (2008); and Westside, Europe's largest retail and health center, located in Bern, Switzerland (2008).
Daniel Libeskind Mr. Libeskind has taught and lectured at many universities worldwide. He has held such positions as the Frank O. Gehry Chair at the University of Toronto, Professor at the Hochschule für Gestaltung, Karlsruhe, Germany, the Cret Chair at the University of Pennsylvania, and the Louis Kahn Chair at Yale University. He has received numerous awards including the 2001 Hiroshima Art Prize — an award given to an artist whose work promotes international understanding and peace, never before given to an architect. Mr. Libeskind's ideas have influenced a new generation of architects and those interested in the future development of cities and culture.
.
.
.
.
.
.
source: architectorua
«Архитектура – это язык, способный рассказать историю человеческой души», – говорит Дэниел Либескинд, которого называют одним из самых ярких архитекторов-деконструктивистов нашего времени.
Конструкция под названием Beyond The Wall («За стеной») установлена во дворе Миланского государственного университета.
В этой работе автор исследует архитектуру в более широких аспектах, чем эстетика или технологии, это скорее источник творчества и новых знаний. Архитектура живет и дышит, характеризуемая интерьером и экстерьером, со своим телом и душой, подобными человеческим.
Инсталляция, называемая «математической мозаикой», основана на идее спирали и выполнена как серия сложных геометрических объемов с несколькими центральными осями, которые толкают и тянут конструкцию в противоположных направлениях.
Использование любых материалов, размещённых на сайте, разрешается при условии ссылки на Architector.ua. Ссылка должна быть открыта для поисковых систем в независимости от полного либо частичного использования материалов.