peace camp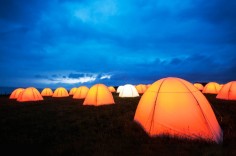 source: designboom
designed by director deborah warner in collaboration with actress fiona shaw and composer mel mercier, 'peace camp' is an immersive installation and soundscape that sets britain's coastline aglow with 2000 illuminated tents. the project is realized by artichoke creative agency, for exhibition from july 19th – 22nd, 2012 in the UK as part of the london 2012 festival.
from dusk through dawn at eight coastal locations, the natural sounds of wave and wind intermingle with spoken recordings of words and love poetry representing a spectrum of traditions and languages across the centuries, all emanating from a campsite of glowing tents set across the landscape.
the historic sites of the installation include the mussenden temple built in 1785 along ireland's coleraine; the 18th century fort and ancient settlement of fort fiddes in scotland, home to the north sea's only known bottlenose dolphins; and the 700-year old ruin of dunstanburgh castle in england. 'peace camp' visitors to one location– godrevy in north cornwall, england– experience the installation from a boat along the beach's shores; for all others they walk directly among the tents and grasses.
about the quiet and ever-shifting cacophony of voices in the soundscape, composer mel mercier reflects:
'while the poems were originally recorded separately as solo renditions, at different times and in different locations, in this composition two or more poems, or fragments of poems, may be woven together to create a duet or a trio. pushing into each other, their dialogue reveals shared and contrary perspectives on love, while the play of consonance and dissonance in the counterpoint between them draws out the rhythm and music of the poetic language. in these various configurations, the poems inhabit a shared sonic landscape.'
designed to celebrate peace, the installation is also careful to respect the existing environments of each of its locations: the existence of special maritime grasses has dictated the placement of each tent, and a specialist seabird ecologist was called in to the godrevy island site to ensure that the encampment does not negatively affect the natural habitat and habits of local birds.
an online version of 'peace camp' invites users to record their own reading of one of the site's poems, upload literature, take photographs, or write messages and dedications. individuals can also listen to or download the soundscape online for a limited time period.