Five Easy Pieces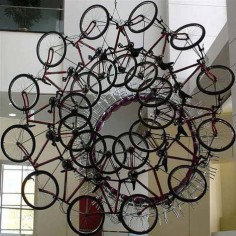 source: donaldlipskinet
Donald Lipski was born in Chicago, Illinois in 1947. He was raised in the northern suburb of Highland Park, the son and grandson of bicycle dealers. Although his first welded sculptures as a teen won him The Scholastic Art Award in high school, he became a history major and anti-war activist at the University of Wisconsin–Madison, earning a B.A. in American History in 1970. In Madison, Lipski discovered ceramics while working with ceramics legend Don Reitz. He then pursued an MFA in ceramics at Cranbrook Academy of Art in 1973, where he studied with Richard DeVore and Michael Hall. Lipski taught at the University of Oklahoma from 1973 to 1977, when he moved to New York.
Lipski soon gained recognition with his early installation Gathering Dust, comprised of thousands of tiny sculptures pinned to the wall, first at New York's Artists Space in 1978, and months later at The Museum of Modern Art as part of their Project series. In 1978 he won the first of three National Endowment for the Arts grants, followed by a Guggenheim Fellowship in 1988, an award from the American Academy of Arts and Letters in 1993, The Rome Prize of The American Academy in Rome in 2000, and Cranbrook's Distinguished Alumni Award in 2013.. His work is in the permanent collection of the Metropolitan Museum of Art, the Corcoran Gallery of Art in Washington, D.C., The Art Institute of Chicago, The Menil Collection and dozens of other museums. Lipski's installation works continued in the 1990s with The Bells, at the Contemporary Arts Center in Cincinnati, The Starry Night, at Capp Street Project, San Francisco, Pieces of String Too Short to Save, in the Grand Lobby of The Brooklyn Museum and The Cauldron at the Parrish Art Museum, Southampton, New York.
In recent years, Lipski has focused his efforts on creating large-scale works for public spaces. Some of his most recognizable works include The Yearling, outside the Denver Public Library (originally exhibited by The Public Art Fund at Doris Freedman Plaza, Central Park, New York, 1997), Sirshasana, hanging in the Grand Central Market, Grand Central Terminal in New York City, and F.I.S.H. at the San Antonio River Walk, in Texas. There are twenty some others across the U.S. Lipski lives and works in New York City. He is represented by Galerie Lelong in New York.