the psychotron installation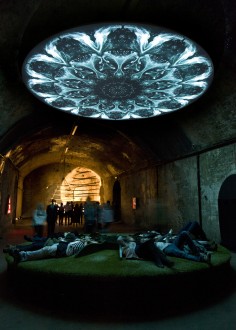 source: dougfosternet
Doug Foster
Doug started out as an animation cameraman at the BBC in 1982. He soon became a lighting cameraman, shooting TV title sequences and commercials for many of the top production companies in London. In 1993 he joined the renowned Blink Productions as a commercials director and garnered some of the advertising industry's highest awards for his films.
Doug gave up the world of commercials in 2006 to devote all his energy to making art. His first works were a set of finely crafted film installations that explore the lengths that people will go to when faced with serious challenges.
His more recent, large-scale projection installations aspire to beguile at a more primal level by imposing perfect symmetry on irregular forms from nature to evoke pseudo-biological imagery.
Doug has exhibited at The David Roberts Foundation (2007), Punchdrunk's Tunnel 228 (2009), Lazarides' Hell's Half Acre, The Minotaur and Bedlam at The Old Vic Tunnels (2010 – 2012), Daydreaming With…St Michael's (2011), Daydreaming With… The Hong Kong Edition (2012) and Secret Cinema's Prometheus (2012). His solo shows include Only Human at The Fine Art Society (2008) and In the Naughty Chair at Lazarides (2011).
.
.
.
.
.
.
.
source: theoutsidersnet
Doug Foster's giant immersive artworks are among the most memorable pieces ever shown by Lazarides Gallery. Heretic's Gate, Chimera and The Psychotron represented the climax of Lazarides' memorable Hell's Half Acre, The Minotaur and Bedlam exhibitions respectively.
Now one of Doug's stunning installations is available in edition format. The Psychotron Framed – a video piece based on the 12-petal lotus flower symbolising eastern spirituality's heart chakra – has been harnessed into a purpose-built viewer that can hang on a wall or stand freely on a flat surface. The piece is currently only available by collection from The Outsiders London gallery. Order now and Doug will assemble the materials in two weeks.
"For centuries, circular figures containing symmetrical patterns have been used as a tool for meditation," says Doug of his original Psychotron on display at Bedlam. "The mandala, the yantra and visualisations of the various chakras, all conform to radial design principles that have been refined throughout the ages. Now those principles have been ruthlessly plundered for the creation of The Psychotron.
The result is a giant, hovering kaleidoscope of liquid light; an ever expanding super-mandala that engulfs its audience in a fractal universe of soothing spatial repetition."
Stimulate your higher senses with this distinctive and entralling piece on sale from today in an edition of ten priced at £3000 each. Here's an understated promo cut by Doug himself – should you wish to purchase the mothership Psychotron from Bedlam also pictured below, please contact the gallery.