SCREEN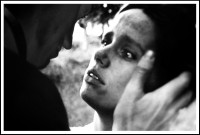 source: artfacts
1975 Born in Palermo
Born in Palermo, Italy, 1975. In 2001 she graduates at Accademia di Belle Arti of Palermo, master degree. She has been working in Italy, Germany, France, Finland, Sweden, England, Spain, Russia, Cuba and Nicaragua.
In 2003 she became member of the art collective La Sala Naranja, Valencia, Spain. Since 2006 she lives and works in Helsinki, Finland, where she founded Namastic Art Collective, together with Toni Ledentsa and Virva Sointu. In 2006 she also founded LARU Environmental Art association together with Anu Miettinen and Anastasia Eliseeva; LARU organizes every year collective exhibitions, workshops and performance. Both art collectives (LARU and NAMASTIC) are non-profit organizations active mostly in Europe.
Egle Oddo's photography work is represented by gallery Luova.fi, based in Helsinki.
Prizes and Fairs
1999, Prize Felice Casorati Archive to the photo monotipe "Insomnia".
2008, Helsinki Contemporary Art Fair. At Wanha Satama, stand of Boring Films Group, days 18 and 19.10.2008