La Charme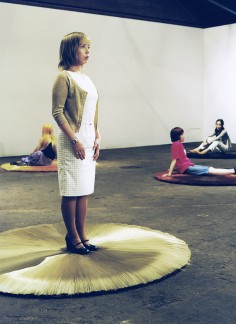 source: smh
For Emiko Kasahara, female hair symbolises the ultimate love-hate relationship.
To prove that point, the Japanese-born artist has picked eight Australian women, turned most into blondes and filmed them posing on five large circles of synthetic hair.
"Hair is a symbol of beauty on the human body," Kasahara said. "Hair represents vitality of life and sexualities and is precious.
"But when you cut off the edge and let it fall on the floor, it's considered disgusting dirt. It's the same hair but it's interesting that it shows both beauty and dirt."
Titled La Charme #3, Kasahara's installation will be on show at the Art Gallery of NSW from Friday, as part of the Biennale of Sydney. It will feature the circles of hair and a screen showing footage of the models reclining and standing in them.
Kasahara hopes the zen-like installation will spur viewers to question how women are observed and how they perceive themselves.
The models, aged from five to their early 50s, include a schoolgirl, an office worker, a dancer and a mother and her daughter.
.
.
.
.
.
.
.
source: abcnetau
Feminine beauty has been a preoccupation of artists for several millennia, however interrogative works concerning the portrayal of femininity in terms of sociological agenda, be they driven by the consumer world or by religious doctrine, is relatively recent.
The Japanese, New-York based photographic and installation artist Emiko Kasahara plays directly in the female physiology (rather than its presentation in accordance with the fashion and painted exterior prevalent in various local cultures) to make such an inquiry. Hers focuses on the status of women in a patriarchal Japanese society – in relation to both the traditional sexual roles they have played and the previously neglected desire to understand the female sexual organs from a scientific point of view.
Kasahara's investigation takes the form of eight photographs, each containing an enlarged close-up image of the cervix. These digital images were rendered in black-and-white and then tinted in the colour of the works' title, that is, 'Pink (edition #2)'. The chosen colour, luminous and rich, plays on the popular reference to the 'pink industry', used to designate the sex industry in the artists' homeland.
Kasahara is quick to also draw a parallel with the colour of the native cherry blossom, thus a confluence between virginal innocence and carnal depravity can be drawn. Her second portrayal of female beauty examines the cosmetic aspect of women's fashion mentioned earlier. 'La Charme #3' is a performance installation in which women – whose hair is dyed to match the large discs of synthetic hair placed on the floor of the Gallery of New South Wales – pose while having their hair cut. The strands, once treated with reverence and respect, fall to the floor and are now considered dirty and must be quickly disposed of.