NOQTURNL V1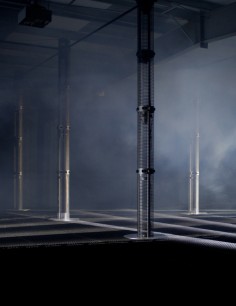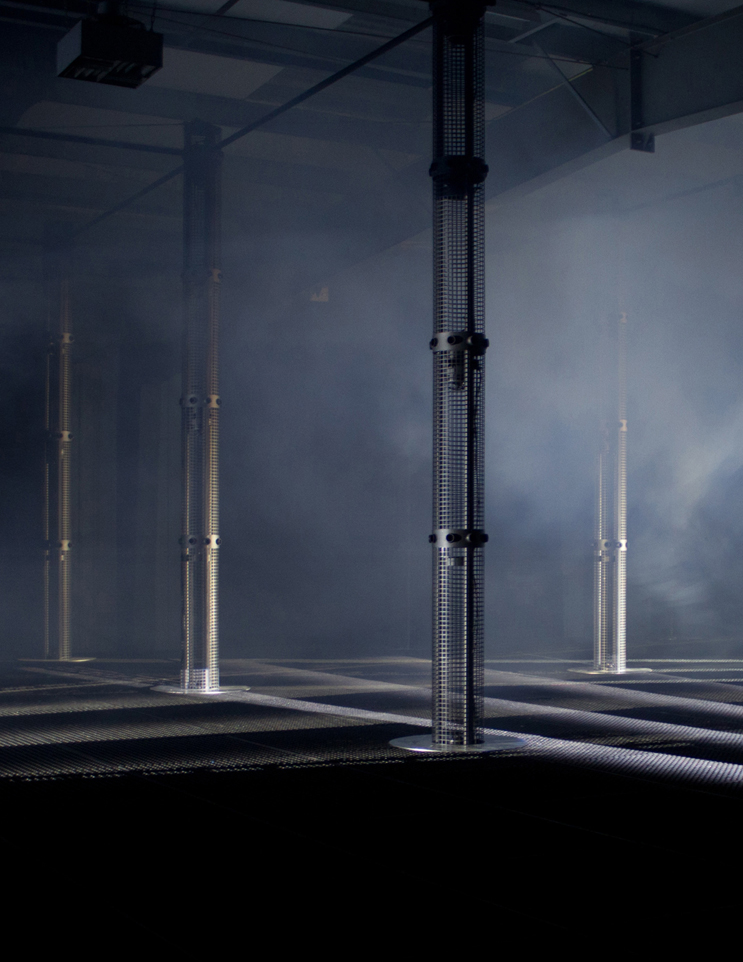 source: florence-to
Noqturnl is an audiovisual meditation exploring collective dreamstate. The audience is invited to spend the night in the 4DSOUND system. A group of listeners are immersed in a spatial experience while they flit around the threshold between waking state and dream. Slow, pulsedriven musical constructs, vast landscapes of sound and visual patterns develop over hours as the listeners drifts in and out of sleep, blurring the boundaries between dream environment and physical space: in doing so, allowing conscious access to the vivid, intuitive imagery and sensation within the borders of dream experience.
The concept has evolved throughout 2014 in a number of sessions on the 4DSOUND system – with small groups of invited audience participating in the experience. More information on where and when to follow early 2015.
.
.
.
.
.
.
.
source: hyponik
Done right, club based visuals can add an extra layer to the music which they accompany, creating an experience for the observer which has the potential to be transcendent. Striving to, "create an exploration within the senses", London based artists Florence To has rapidly become a name in demand for musicians looking to ally their sounds with visual stimuli that is capable of unlocking an interactive element for the audience within their performance. The last few years have seen her studied approach to visual design appplied in tandem at installations with the likes of Techno warrior Speedy J , Japanese found sound savant Yosi Horikawa, acclaimed Ghostly International beatmsith Shigeto, hi-fi specialists Bowers & Wilkins, Amsterdam based audio innovators 4DSOUND and Scottish Techno producer Alex Smoke, with plenty more projects in the pipeline for the coming months.
After many years immersing herself in the frequencies of the music she performs alongside, To is now keen to try her hand at a wholistic take over a space – by combining her innate understanding of the potential of spaces with a growing aptitude for sound design. As she ventures further down her creative path, we managed to rope her in for the latest edition of our Back In The Day series, to talk about her youth in her native Scotland, her route into her current profession and where she wants to take things going forward.
4DSOUND3
Early musical education
When I was a kid I had quite strict parents so I wasn't really allowed to go out that much and I had two older brothers so I was the one that was always left with nothing to do. I read a lot of books and I would always make things. One day my mum or my dad gave me one of those books-you know the ones with those built in pianos? I think thats when I started to pretend I had a piano. My mum eventually got me aelectric one and I would just play around with it. It was a Technics one with MIDI pads on it. I learned to play on that for like seven years then switched it for an upright piano. I don't play the piano so much anymore. I do have other instruments I play with now-electronic wise.
I played the drums from the age of 11 for about five years. My school wasn't really influencing us to be creative, that was the hard part. When I chose art they told me I wasn't allowed to have lessons anymore in drums because they said I couldn't choose both. With piano I'd learnt through my mum's friend who was a teacher so that worked out better. When I went to do my fashion degree I just quit because I'd moved away. I play when I go back to my mum's but I live in London so I don't have a piano in my house but I do have a synthesizer which helps!
Starting out with visuals
I quite like how frequencies work in sounds. The frequencies create the initial direction in how I programme the visuals. Like I said, I studied fashion first, in my first year I did textiles and specialised in weaving, then I quit that course and I went into fashion design for industry which is more constructing patterns for clothes. Then I got into tailoring for three years and it's through my skills as a tailor that I ended up creating shapes and constructing sculptures for events.
I wasn't much of a clubber. I was the kind of person that would stay in and work all the time. When I moved back to Glasgow in 2007 to do a masters at art school in Fashion and Textiles, I partied quite alot then…when the year had finished I moved back to London to do tailoring and fashion shows. Later I realised I wasn't earning enough money with my job so I decided to move back to Glasgow for three years.
.
.
.
.
.
.
.
source: florence-to
London based artist Florence To designs functional installations to create an awareness of the original space. She developed her work from her previous profession in tailoring and textiles, moving on to forms and experimenting with different media and technology. To pays attention to detail in materials, researching in qualities that create interesting textures, accenting the use of darkness as well as light. The progression and process of To's work involves using the identity of space then sound. How light travels within the space to create an exploration within the senses becomes relevant to creating a visceral installation for the audience to interact with…using depth of sound to have control of the various parameters of light.
To performs live with her installation with an important consideration to motion and adaptation, creating a visual sensory in each processing stage. The live aspect in her work is important to activate a real emotional response within a performance and from the music performer. Her work with visual space is about showing how the organized elements in architecture can create either tension or harmony.