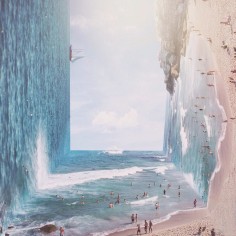 source: boredpanda
Jati Putra Pratama turns landscape photos into surreal works of art by contorting the scenes to include unusual angles. The Jakarta, Indonesia, graphic designer made waves on Reddit after posting one of his pieces, spawning a flood of copy-cat work, and even a tutorial. Many online commentators write that Pratama's work is reminiscent of the physics-defying scenes from the hit-film Inception, but this isn't Pratama's only style: his Instagram features more traditional (if there can be such a thing) surreal photos as well.
.
.
.
.
.
.
.
source: designer-daily
Still a student of graphic design in Indonesia, Jati Putra Pratama already creates some mind-bending art that may remind you or the movie Inception. With amazing perspective and unusual skies, his photo manipulations often make it look like worlds are colliding. He regularly shares new photographic artworks on his Instagram account.
.
.
.
.
.
.
.
source: nuncalosabre
Bienvenidos al mundo de Jati Putra Pratama. Este diseñador indonesio se toma ciertas libertades con la realidad. Juega con perspectivas y ángulos imposibles y la superposición de elementos, creando estos paisajes surrealistas y oníricos, donde la gravedad no existe y desafían todas las leyes de la física, pudiendo manejar la realidad a nuestro gusto. Sus obras nos recuerdan al mundo de los sueños de Inception, la famosa película del director británico Christopher Nolan.
.
.
.
.
.
.
.
source: zupi
Se Salvador Dalí tivesse uma conta no Instagram, provavelmente seria muito parecida com a de Jati Putra Pratama. O designer gráfico indonésio vem ganhando repercussão pelo seu trabalho onde transforma paisagens em obras de arte surreais, contorcendo as cenas em ângulos incomuns.
Cenários sobrepostos ou dobráveis, formando composições equilibradas que fazem mais sentido em um sonho do que na vida real; é assim que o trabalho de Pratama se descreve. Ao observar suas fotografias, é muito comum nos remeter à designer Witchoria. Confira mais alguns trabalhos dele em seu Instagram.
.
.
.
.
.
.
.
source: dagospia
Surrealista e onirico, il lavoro del designer indonesiano Jati Putra Pratama, di Jakarta, autore di immagini dall'effetto spiazzante ottenute "piegando" virtualmente delle foto panoramiche e inserendo o sovrapponendo ad esse sfondi e suggestioni diverse.
Non ha un sito in cui mostrarle tutte, perché per ora il suo è un passatempo, ma potete vedere queste e altre immagini da lui create sul profilo Instagram che lo sta rendendo noto in tutto il mondo (30.4k di seguaci).
.
.
.
.
.
.
.
source: ufunknet
Une sélection des collages surréalistes et oniriques de Jati Putra Pratama, un graphic designer indonésien, basé à Jakarta, qui remplit son compte Instagram de compositions douces et fascinantes…