جنيفر روبل
제니퍼 루벨
ジェニファールベル
Portrait of the Artist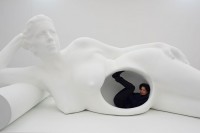 source: jenniferrubell
Jennifer Rubell creates participatory artwork that is a hybrid of performance art, installation, and happenings. The pieces are often staggering in scale and sensually arresting, frequently employing food and drink as media: one ton of ribs with honey dripping on them from the ceiling; 2,000 hard-boiled eggs with a pile of latex gloves nearby to pick them up; 1,521 doughnuts hanging on a free-standing wall; a room-sized cell padded with 1,800 cones of pink cotton candy.
Viewers are encouraged to partake in the work, violating the traditional boundaries of art institutions and engaging senses usually forbidden in or absent from museum and gallery contexts. Rubell's work explores the intersection of the monumental and the ephemeral, and serves as a counterpoint to the virtual nature of much of contemporary life.
Some of Rubell's notable previous projects include Old-Fashioned, at the Los Angeles County Museum of Art; The de Pury Diptych at the Saatchi Gallery, London; Icons, at the Brooklyn Museum; Creation, for Performa, the New York performance-art festival; and, since 2001, a yearly breakfast project in the courtyard of the Rubell Family Collection in Miami during Art Basel Miami Beach.
Rubell, 42, received a B.A. from Harvard University in Fine Arts, and subsequently attended the Culinary Institute of America. She wrote about food for over a decade prior to beginning her artistic practice, including columns in the Miami Herald and Domino magazine, and the book Real Life Entertaining (Harper Collins). Rubell lives in New York City.
.
.
.
.
.
.
.
source: voguecouk
Jennifer Rubell, the American artist and niece of Studio 54 co-founder Steve Rubell, brings a maternal touch to this year's Frieze Art Fair with her autobiographical piece Portrait of the Artist. The pristine white nude, cast from steel-reinforced fibreglass, reclines like an odalisque at the Stephen Friedman Gallery stand. The sculpture is a replica of Rubell's own eight-months-pregnant body, except it is eight metres high: the large belly, which is carved out to leave an egg-shaped void, can accommodate a fully grown adult. Spectators are able to clamber into the artwork and curl up inside as if they are the artist's unborn child.
Rubell's intention was to create a monumental gesture of unconditional motherly love. There is a feminist statement here, too: Rubell has appropriated a style and scale historically reserved for male leaders to show, she says, "an emotion that is intensely personal and un-heroic". The artist adds that watching members of the Frieze audience enter in the sculpture's womb is "tremendously satisfying" – in her eyes the enlarged form was "incomplete until the first viewer entered".
Amid the hustle of Frieze's mini-city there is something undeniably appealing about the opportunity to put your feet up in the foetal position in the name of art. Not to mention the comfort factor.