乔恩·凯斯勒
존 케슬 러
ジョン·ケスラー
ДЖОН КЕССЛЕР
Evolution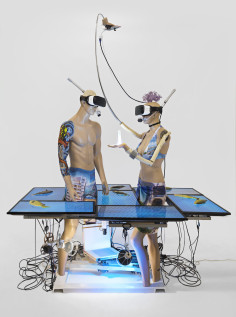 source: jonkessler
b. 1957, Yonkers, New York. With his chaotic kinetic installations, Jon Kessler critiques our image-obsessed, surveillance-dominated world. His machines are at once complex and lumbering, combining mechanical know-how with kitschy materials and images. Structurally complex and narratively engaging, Jon Kessler's multimedia sculptures often deliver an emotional punch beyond their humble means. With his distinct vocabulary, Kessler taps into our all-too-real modern-day anxieties, but at the same time, spirits us away into an exciting wonderland that is ultimately uplifting.
.
.
.
.
.
.
.
source: artscolumbiaedu
Jon Kessler received a B.F.A. from SUNY at Purchase and the Whitney Museum Independent Study Program. He has exhibited his work widely in Europe, Japan, and the United States. He has sculptures in the permanent collections of many institutions, including the Museum of Modern Art in New York, the Whitney Museum of American Art, the Walker Art Center, and the Museum of Contemporary Art in Los Angeles. He has received several NEA grants, the St. Gaudens Memorial Fellowship, a Guggenheim Fellowship and a Foundation for the Performing Arts grant.