Colony III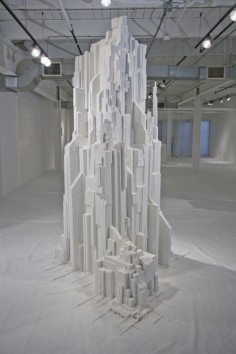 source: beliomagazine
Tal y como describe el propio Jonathan Latiano, una de sus primeras experiencias artísticas que le dejaron marcado no fue en los pasillos de un gran museo de arte, "fue ante las vitrinas y dioramas de la Academia de Ciencias Naturales de Filadelfia. Son precisamente esas historias y exploraciones científicas las que comenzaron a dar forma y contextualizar mi comprensión del mundo físico que me rodea. Es a través de los estudios de biología, astronomía, física y geología que utilizo como punto de partida para encontrar inspiración para todas mis obras." Una obra que reproduce de forma estática, a través de instalaciones con todo tipo de materiales cotidianos, fenómenos propios de la naturaleza. Creando así un contraste poético entre lo natural y lo artificial.
Pero el área en el cual la escultórica obra de Latiano gana en potencia es cuando tiene ocasión de hacer instalaciones para un espacio concreto, el llamado site specific art. Permitiendo que el propio lugar sea el detonante de la idea que dará forma a la obra. Propiciando así una reflexión sobre el propio espacio y su relación con el espectador. "Me esfuerzo por enfatizar las zonas que existen entre los límites de las áreas definidas" afirma Jonathan, como un intento personal por entender su lugar en este universo físico.
.
.
.
.
.
.
source: jonathanlatiano
Jonathan Latiano was born and raised amongst the rural hills of Bucks County, Pennsylvania. Since graduating from Moravian College in Bethlehem, PA in 2006 with a degree in Studio Art, he has lived and exhibited in New York City and Baltimore, Maryland. In May of this year, Jonathan received his Masters of Fine Art from the Maryland Institute College of Art.
Currently, Jonathan resides and works in Baltimore, Maryland and teaches at The Maryland Institute College of Art and The Corcoran College of Art and Design in Washington DC.
.
.
.
.
.
.
source: hifructose
Using wood, paint, mirrors and found materials, Jonathan Latiano builds crystalline structures for his site-specific installations. Breaking through walls or rising up and bursting from the floor, the geode-like shapes Latiano builds invite spontaneity, disrupting the ways we expect space to be organized in our mundane environments. Interested in biology, geology and physics, Latiano uses his work as a means to explore the physical world. The artist is based in Baltimore, MD and currently teaches at The Corcoran College of Art and Design in Washington DC. Take a look at some of his recent works below.
.
.
.
.
.
.
source: theblacklightnet
Skutečně, pokud se podíváte na jeho umělecké objekty, zjístíte, že se od přírodních věd neodvrátil, právě naopak! Většina instalací, které v roce 2012 Jonathan Latiano vytvořil, vypadají jako zachycený moment vybuchujícího nebo prostřelené těleso. Ty další zase jakoby vystupovaly z hlubin země. Všechny však vzbuzují spíše dojem nových technologií nebo živoucí vědy.
Tento mladý muž pocházející z Pennsylvanie o sobě říká, že nachází poetiku v děsivých a fascinujících pojmech z fyziky. Jeho práce a umění je prý především hon za pochopením sebe sama ve fyzickém vesmíru.
Pro vytváření svých děl používá nejčastěji sklo, peří a prach, kvůli jejich křehkosti a pomíjivosti. Jako opozitum těchto jemných materiálů rád využívá i polystyren, plast nebo emailové barvy.