Джозефин Мексепер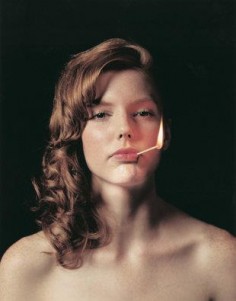 source: interviewmagazine
Josephine Meckseper is adept at critiquing her environment. She questioned the prosperity of the art world by placing an "Out of Business" sign in the window of a gallery in Chelsea (a similarly cheeky "Help Wanted" sign attracted up to 20 applicants a day who had failed to get in on the joke). In 2012 she erected two 25-foot oil rigs in the heart of Times Square to remind unsuspecting tourists about the perils of capitalism and industrialization. Her work critically examines mass media, our consumption-obsessed society, and even our political systems. But for her most recent solo exhibition at Andrea Rosen in Chelsea, Meckseper turned her attention towards something left previously unexamined: her own lineage.
Though Meckseper left Germany for New York on her own accord, she failed to leave behind the burden of guilt felt by many young Germans, even three generations after World War II. The reverberating impact of Meckseper's German heritage is exemplified by her black-and-white images of Niedersachsenstein, a sculpture in Meckseper's hometown of Worpswede that commemorates the soldiers who perished in World War I. This historic image is juxtaposed against glossy ad images and Meckseper's vitrines—recognizable reconstructions of modern store displays. The uniquely personal nature of the exhibit became clear when we sat down with Meckseper to discuss leaving the sheltered artistic community of Worpswede, living in New York, and the Christmas displays at Macy's.
.
.
.
.
.
.
.
source: momaorg
Josephine Meckseper's photographs and mixed‑medium installations cunningly expose the links between politics and the consumer worlds of fashion and advertising. The artist grew up in an artistic family with ties to the revolutionary left (her father, artist Friedrich Meckseper, had anarchist inclinations and her mother has been an elected representative of the Green Party).