Катарина Trudzinski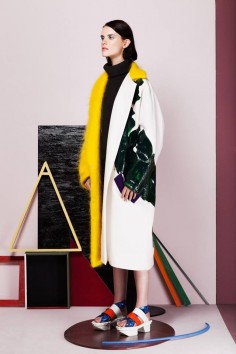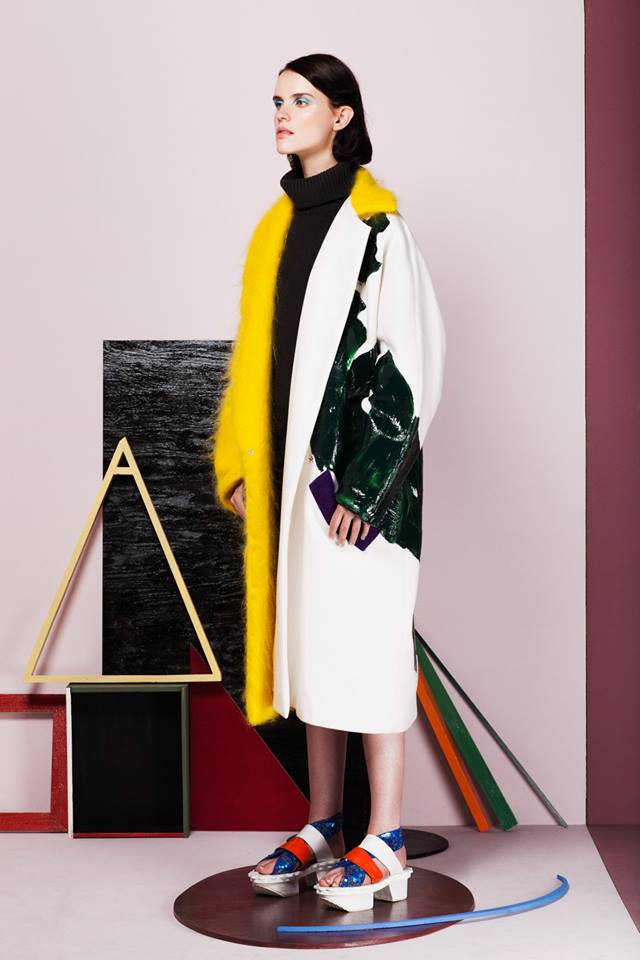 source: sightunseen
When Hamburg-based artist and textile designer Katharina Trudzinski decided to take a second residence in Berlin this spring, she found an inexpensive live-work space on the fringes of the up-and-coming Neuköln neighborhood — the city's equivalent of Bushwick, Brooklyn — and saved two months' rent by promising the landlord she'd renovate. But it was imagination, not thrift, that inspired her next move: After stripping the wood paneling from the walls and ceilings and tearing down a few ill-conceived door frames, she began painting the detritus and incorporating it into her sculptural installations and high-relief paintings. Made from constellations of scraps, street finds, and everyday junk cloaked in perfectly calibrated hues, her work — some of which becomes inspiration for the pieces in her clothing line — is meant to dialogue with its surroundings. "It's not my intent that the materials should be cheap, I just like to use things that are around me," she says. "I like to start with what I've got."
While Trudzinski has moved the majority of her art studio to Berlin, whose eastern half is still conveniently piled high with unwanted flotsam left behind by rapid modernization, her fashion label Hui-Hui remains in Hamburg. She started it with her sister and a friend in 2004 while they were studying fashion design and she textiles, and the line between it and her art practice regularly blurs. Her sculptures, like a recent plywood totem inspired by the Memphis Group and ice cream cones, are sometimes integrated into sets for Hui-Hui's elaborate lookbook shoots, and her paintings often go on to become scarves, jackets, and jewelry. But the effect also works in reverse, albeit in a more subtle way: Many of those paintings are concerned with materiality, and how objects like toothpicks, popsicle sticks, or wood cuts can evoke the qualities of a fabric's surface or a pattern traditionally associated with textiles.
When Sight Unseen visited Trudzinski in her new home studio in Berlin, there was precious little to see. She had just put up a piece in a local boutique called Nr.4 — which also carries clothes by Hui-Hui — but she prefers to do nearly all the construction for her installations on-site. The label's upcoming presentations in Tokyo and Paris, plus the apartment renovation, had also delayed her from getting a proper start in her new digs, and then there was the cruel fate our Canon S90 suffered when it was dropped to the floor mid-shoot. But we still appreciate the chance to introduce our readers to a truly multidisciplinary artist, and to offer a glimpse at her many-layered practice.
.
.
.
.
.
.
.
source: trendhunter
Katharina Trudzinski is a talented artist who is making a name for herself through the creation of abstract 3D collages and paintings. Dabbling in all things contemporary, Katharina Trudzinski's work is as thought-provoking as it is artistic. Both the sculptures and paintings will inspire people to look into their depths to either figure out the meaning behind each or to simply lose themselves in the haphazard twists and turns.
Living and working in Hamburg, Germany, Katharina Trudzinski has an extraordinary skill for color palettes and wild techniques that may very well boggle the minds of gallery goers everywhere. From paintings spilling onto the floor to slew of empty frames, Katharina Trudzinski puts together art shows that are entirely immersive. Seeing one in person would be a complete treat.
.
.
.
.
.
.
.
source: zoominfo
When Hamburg-based artist and textile designer Katharina Trudzinski decided to take a second residence in Berlin this spring, she found an inexpensive live-work space on the fringes of the up-and-coming Neuköln neighborhood – the city's equivalent of Bushwick, Brooklyn – and saved two months' rent by promising the landlord she'd renovate. But it was imagination, not thrift, that inspired her next move: After stripping the wood paneling from the walls and ceilings and tearing down a few ill-conceived door frames, she began painting the detritus and incorporating it into her sculptural installations and high-relief paintings. Made from constellations of scraps, street finds, and everyday junk cloaked in perfectly calibrated hues, her work – some of which becomes inspiration for the pieces in her clothing line – is meant to dialogue with its surroundings. "It's not my intent that the materials should be cheap, I just like to use things that are around me," she says.
.
.
.
.
.
.
.
source: thefoxisblack
Berlin-based sculptor and painter Katharina Trudzinski creates pieces that defy logic and speak directly to the viewer's senses. When I look at Trudzinski's installations I find that I am unable to intellectualise or make sense of her work, and instead get lost in her intriguing use of space and form. Trained in textile design, this disciplinary background can be seen in her manipulation of pattern, colour and texture, as well as the tactile approach to her art practice. However, rather than using fabric and thread, Trudzinski knits and weaves with objects such as wood and paddle pop sticks to produce her unique surface patterning effect. According to a recent interview with Sight Unseen, Trudzinski utilises a vast array of reclaimed and found materials, claiming that "It's not my intent that the materials should be cheap, I just like to use things that are around me…I like to start with what I've got." Not a bad philosophy, I'd say.thefoxisblack