Finite & Infinite Games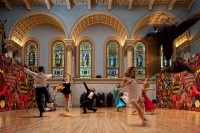 source: katherinehelenfisher
An interdisciplinary dance film, Finite & Infinite Games, is a celebration of unity and color. Filmed at Judson Memorial Church in 2010 and premiered at Art Basil Switzerland, Games draws inspiration from philosopher James P. Carse's "Finite and Infinite Games: A Vision of Life as Play and Possibility." The suite of nine dances, directed and choreographed by Katherine Helen Fisher, explore the individual's quest for generativity within community.
Visual artist C. Finley created the 48′x12′ non-repetitive geometric painted canvas as a comparative replication of the dance. Costumes by fashion designer Gai Mattiolo. Film by RJ Muna. Edited by Sam Chase. Score by Phillip Glass, Moondog, Michael Nyman, Riff-Ola, Food. A thisiswater Production.
.
.
.
.
.
.
source: finiteandinfinitegamesblogspot
Finite and Infinite Games
is a collaborative interdisciplinary project melding the contemporary visions of choreographer, visual artist, filmmaker and fashion designer.
The result is a modern amalgamation of movement captured on film shot at Judson Memorial Church, NYC.
.
.
.
.
.
.
source: katherinehelenfisher
The Making of Finite & Infinite Games is a documentary short produced by Katherine Helen Fisher and filmmaker Randy Hamilton in 2011. Shot in San Francisco, Rome, New York and Vienna the piece offers a glimpse into the creative process with interviews of the project's key collaborators concerning the cross disciplinary intersection of dance, film, fashion and contemporary visual art.