키드 피봇
dark matters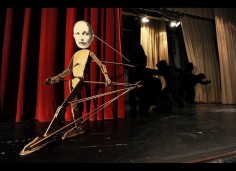 source: kiddpivotorg
Integrating movement, original music, text, and rich visual design, Kidd Pivot's performance work is assembled with recklessness and rigour, balancing sharp exactitude with irreverence and risk. Under the direction of internationally renowned Canadian choreographer Crystal Pite, the company's distinct choreographic language – a breadth of movement fusing classical elements and the complexity and freedom of structured improvisation – is marked by a strong theatrical sensibility and a keen sense of wit and invention.
Crystal Pite has collaborated with celebrated dance artists, theatre companies and filmmakers in Canada, Europe, and the United States. Since 2002, she has created and performed under the banner of her own company. Her work and her company have been recognized with numerous awards and commissions. Kidd Pivot tours extensively around the world with productions that include The Tempest Replica (2011), The You Show (2010), Dark Matters (2009), Lost Action (2006), and Double Story (2004), created with Richard Siegal. Kidd Pivot is the recipient of the 2006 Rio Tinto Alcan Performing Arts Award, and was resident company at Künstlerhaus Mousonturm, with the support of Kulturfonds Frankfurt Rhein Main, in Frankfurt, Germany from 2010 to 2012.
Born and raised on the Canadian West Coast, choreographer and performer Crystal Pite is a former company member of Ballet British Columbia and William Forsythe's Ballett Frankfurt.
Pite's choreographic debut was in 1990, at Ballet British Columbia. Since then, she has created works for Nederlands Dans Theater I, Cullberg Ballet, Ballett Frankfurt, The National Ballet of Canada, Les Ballets Jazz de Montréal (Resident Choreographer, 2001-2004), Cedar Lake Contemporary Ballet, Ballet British Columbia, Alberta Ballet, Ballet Jorgen, and several independent dance artists; most recently Louise Lecavalier. Crystal is Associate Choreographer of Nederlands Dans Theater and Associate Dance Artist of Canada's National Arts Centre in Ottawa. In November 2013 Crystal was appointed a Sadler's Wells Associate Artist.
In 2002, she formed Kidd Pivot in Vancouver. Integrating movement, original music, text, and rich visual design, Kidd Pivot's performance work is assembled with recklessness and rigour, balancing sharp exactitude with irreverence and risk. The company's distinct choreographic language – a breadth of movement fusing classical elements and the complexity and freedom of structured improvisation – is marked by a strong theatrical sensibility and a keen sense of wit and invention.
Kidd Pivot tours nationally and internationally, performing such highly-demanded and critically acclaimed works as Dark Matters and Lost Action. Kidd Pivot's residency at the Künstlerhaus Mousonturm in Frankfurt (2010-2012) provided her the opportunity to create and tour her most recent works, The You Show and The Tempest Replica, with her dancers and collaborators.
Pite is the recipient of the Banff Centre's Clifford E. Lee Award (1995), the Bonnie Bird North American Choreography Award (2004), and the Isadora Award (2005). Her work has received several Dora Mavor Moore Awards (2009, 2012), and a Jessie Richardson Theatre Award (2006). She is the recipient of the 2008 Governor General of Canada's Performing Arts Award, Mentorship Program. Most recently, she was awarded the 2011 Jacob's Pillow Dance Award, the inaugural Lola Award in 2012, and the Canada Council's 2012 Jacqueline Lemieux Prize.
.
.
.
.
.
.
.
source: ontheboardstv
Take away any gender connotations from the term Patriarchal Power, and it seems like the best term to describe Kidd Pivot Frankfurt RM's "Dark Matters." Can an artist's creation take such a hold, that it can literally take over their creator's lives? Crystal Pite's creation has that certain quality to it, generating the type of ambiguity that begs to be analyzed further. The performance was the one of the most memorable things I have seen this season, both in terms of the energy and the creativity presented by the piece.
Take for example the performance's first scene, which presents a room fit for only those comfortable with the most dark and uninhabitable existence. The walls are made of paper, ax's made of cardboard and the world appears only to be lightly sketched, removed from reality and taken into a realm fit for the tallest fantasy. The lighting is low, lit almost exclusively by a lone searching spotlight and a hanging ceiling lamp; the perfect setting for a twisted killer puppet.
Dark Matters separates itself into two components, the first and second act. The first act sets itself up a more linear, as it is described in the program, Frankenstein like affair. With the second act seeming to strip down all the dramatic elements of setting and plot for a very simplified, slower paced, more conventional modern dance piece; a nearly bare set, dancer's dance.
The first act of the piece is nearly flawless. With it's completely original, exciting, moody, twisted, dark, fantastic, amazing, thought provoking, femur breaking …WOW. My extensive use of adjectives, I hope expresses the power of Dark Matters first sequences. The set literally falls apart. People die. Everything that you don't know you want out of a show that involves puppets is here, including comedic Kung Fu! The show manages to be dense and entertaining at the same time. I went into the intermission on such an art induced high, it was rather alarming. Comments like the typically cliché, "You think people would have thought of everything" becomes unexpectedly agreeable.
Then someone prophetically asked," I wonder where she will go from here? The answer is unfortunately, I don't know.
For such a rapidly moving first act, Act Two seems to be set on a strange slow simmer. Gone are the elaborate sets and narrative of the first sequences, instead we get simply the vocabulary of dance. A typically wonderful thing, but in the context of Dark Matter it just fells like I was engaged on so many different levels, only to have the rug of continuity pulled out from under me. Simplicity is great, but not when I am so used to such elaborate ingenuity. Now in all fairness, this change of pace has to be an intentional choice. I am sure it carries meaning in the piece, but what Crystal Pite's is knowingly or not toying with is my engagement and interest level with the piece; frankly, it's just frustrating from an audience's perspective.
The piece did gain back my trust by the end, but it was a rather long road till the excellent, religiously toned dance duet between the puppet creator and one of the puppet masters arrived. The first act really is something that must be seen, but the real downfall of Dark Matters is the time that it takes to earn back the good will of the audience coming into Act Two.
.
.
.
.
.
.
.
source: ledevoir
La dernière création de la coqueluche canadienne de la danse Crystal Pite se décline en deux temps. La première partie de Dark Matters révèle une maestria rare. C'est magistralement mené, tout en théâtralité et absolument séduisant.
Il faut à peine cinq minutes à Crystal Pite pour captiver le public. Dans un appartement aux murs de papier brun, un Pygmalion nouveau construit sa marionnette. Le Pinocchio, animé par quatre danseurs tout de noir vêtus, prendra vie et, on le voit venir, deviendra intraitable. L'orage gronde, le drame aussi. Humour, ironie, jeux d'ombres et de lumières, mise en abîme de la représentation, Pite fait preuve d'une maestria incontestable dans ce conte pas pour enfants. Elle montre l'illusion et la machine à fabriquer l'illusion, sans que la magie ne s'évapore et ne manipule complètement son public.
Pite glisse dans ses tableaux des détails subtils, qu'on capte ou non, mais qui enrichissent l'univers. C'est délicieux, réfléchi, sensible, touchant, cohérent et intelligent. Elle joue avec les fils d'une théâtralité conventionnelle avant de faire — littéralement — éclater le cadre. Oui, oui, oui et oui.
Au retour de l'entracte, ses cinq interprètes entrent dans une danse plus abstraite. Si l'idée d'exploiter les thèmes sur deux tons plaît, le décalage laisse le spectateur en porte-à-faux. Malgré les liens gestuels avec la première partie, on a l'impression de voir deux pièces différentes. Il y a un partage du propos: effet papillon d'un être sur l'autre, liens visibles ou invisibles qui unit, absurdité de la vie et douleur de la perte.
Pite elle-même, la seule encore tout en noir, fait le pont entre les deux sections. En Fantôme de l'Agora, rat à la fois tapageur et discret, elle erre dans le théâtre. Elle et ses danseurs sont merveilleux, fluides et vifs comme des chats. La kinesphère est ample, les membres hyper-articulés, l'écriture bien pensée. La sensibilité émane de tout cela, mais la chorégraphie se dilue en répétitions, tant de sens que de séquences. Comme si Pite avait eu du mal à choisir dans ce riche matériau ce qu'il fallait jeter et garder. C'est une belle danse, faite avec un amour du métier et un amour des danseurs essentiels. Mais c'est trop long. Et après avoir touché si juste en première partie, la barre est haute.
Malgré les moments sensibles, malgré la grande, grande générosité des interprètes, c'est seulement une petite magie qui nous enveloppe en deuxième partie. Bien qu'on nous ait tant promis.