CANDESCENCE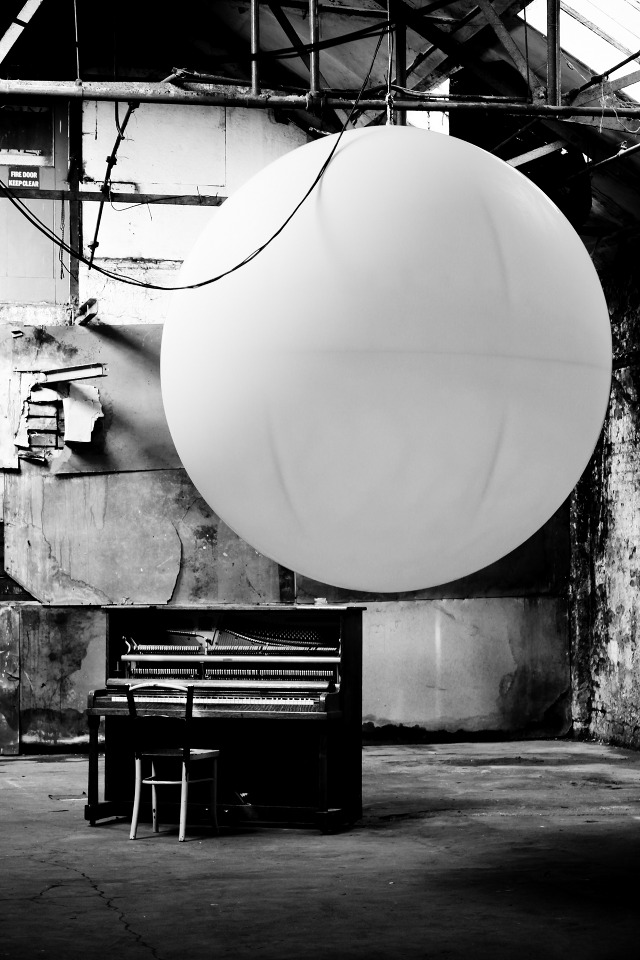 source: kiteandlaslett
Candescence is a peformative light sculpture. Acoustically responsive spheres are activated by sound and touch, designed to inhabit and alter perceptions of architectural space. The installation consists of one or multiple spheres, acting in a spatial dialogue with the audience. Human interaction triggers an ascendance of vision, light and sound in a cyclic loop of which the individual is integral. Originally conceived in 2010, various iterations of Candescence have been exhibited in both off-sites and gallery spaces, each presented as a site-specific response to its context.
Each sphere is inflated to a diameter of 2.4m. Inside, a 3kw light source is suspended at the centre. The spheres can be either white or red in colour. They are suspended to a height determined by the site and conditions of interaction. The light installation can be presented either passively (activated by pre-recorded sound) or actively (triggered through interaction and performance). The brightness of the spheres can be controlled by volume, timbre or specific frequencies of sound. For example, Candescence can respond to the peaks in volume of a choir performing in the church; the louder or more reverberant the performance, the brighter and more active the installation becomes.
.
.
.
.
.
.
.
source: saatchiart
Kite & Laslett are a creative practice of sound and visual artists. The duo; Sebastian Kite and Will Laslett, trained in architecture, sound and music, specialising in producing architectural interventions in the form of interactive installations. Our work fuses sound, light, music, performance and sculptural elements together to construct immersive experiential environments that challenge human perceptions of space. We believe that sound the visual arts share a symbiotic relationship. Sound is rarely experienced within a vacuum; for sound art to become widely recognised, visual representation is key as a communicative device. We are interested in the kinaesthetic; the tactile engagement and accessibility for the audience. Our work has a direct connection with architecture and the abstraction of inherent spatial acoustics. It is non-prescriptive, encouraging participants to navigate our installations within an existing context via an increased sensitisation. Spaces are explored by audience participation; the installations are triggered by movement, sound, touch and friction. KITE & LASLETT view their cross-disciplinary projects holistically with an aim towards rigorous documentation and exhibition of architectural drawings, film, photography, sound recordings and project articles.
.
.
.
.
.
.
.
source: kiteandlaslett
Kite & Laslett is an interdisciplinary art practice based in London. The duo; Sebastian Kite and Will Laslett, trained in architecture and music, create experiential environments to choreograph the sensory engagement of people with architectural spaces. Conceptually, Kite & Laslett's work is rooted in investigations into paradigms of perception and phenomenology. Their practice lies at the intersection of art and architecture, with a particular focus on site-specificity. Kite & Laslett's installations use structure, kinetics, light, projection and sound as strategies to illustrate new readings of spaces. Inherent to their work is a passion for precision, technical efficiency, inventive materials and elegance.
Since graduating as architects in 2010 (Glasgow School of Art, Westminster School of Architecture), Sebastian and Will established Kite & Laslett, a creative arts and design duo in London. Whilst constructing their own houses and studio inside the shell of a disused warehouse, the duo established their practice. Their studio provides the space and inspiration for rigorous experimentation and prototype making. From technical drawings via engineering solutions through construction to installation, and finally, photographic documentation, the duo possess the skills to realise their ambitious ideas self-sufficiently from concept to fruition. Inherent to their work is a passion for precision, technical efficiency, inventive materials and elegance.
Audiences have encountered their site-specific works in non-art spaces such as churches, prisons, bunkers, railway stations and warehouses, but also the white cube gallery. The artists have recently exhibited in Berlin, presenting their dynamic sculpture Panoptic in the former Women's Prison in Kantstrasse for platform79 – the berlin project 09/12; kinetic laser installation Orbit + Candescence for curated art event +-0 in derelict Postbahnhof, 11/12 and solo show Lichtspiel at Import Projects Berlin, 02/13.