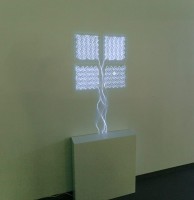 source: ja-partyru
Недавно в центре Сиднее, Австралия, прошла выставка самодельного искусства под названием «Намерение в масках», на которой 19-ти разным художникам и дизайнерам со всего мира было предложено создать свою маску соответствующую тематике выставки. Результаты оказались впечатляющие. Участники постарались на славу и в сумме создали 19 самых необычных масок, для выставки. У каждого художника и дизайнера получилась своя маска и одна не похожа на другую. Все они разнообразны, а порой даже странные и пугающие.
.
.
.
.
.
.
.
source: globelight
Laura Lay is an emerging Sydney designer and curator.
Her investigations into the frameworks that structure our understanding of design has led her to establish He Made She Made – a concept gallery aiming to showcase and promote the work of Australian creatives within the realm of design/art.
Lay's individual practice has developed through a diverse range of study and professional experience. With a background in spatial design and visualisation, she continues to develop a highly personalised visual language informed by user experience and interaction.
Designer Laura Lay's work is concerned with memory, reverie and perfect imperfection. The Established Child series is an experimentation in EL wire, a messy construct of light and form, designed to represent Lay's fixation with remaining true to her inner child while existing in a somewhat structured adulthood.
.
.
.
.
.
.
.
source: backyardopera
A little while back the City of Sydney pushed to revitalize the lower end of Oxford St, Darlinghurst through subsidized rent for creative spaces. At the same time a group of four creative individuals, Laura Lay, Patrick Chambers, Bent Patterson and Maaike Pullar were looking for a space and opportunity to try new things and so He Made She Made was born.
Laura describes He Made She Made as having developed into "a curator run initiative" that is still finding its feet and where it fits into the gallery scene. She says, "We're not really a 'gallery-gallery' as such. Someone called us a 'concept factory of awesome' the other day which made me chuckle. I guess you could call us that."
He Made She Made, or the 'concept factory of awesome' aims to showcase and promote the work of creatives within the realm of art and design. They present monthly shows that have been curated in-house and have a strong conceptual focus. Generally they host group shows and their contributors are "multidisciplinary and are at various stages in their creative journeys; what most of them have in common is that they're still in their experimental stage," explains Laura.
The current He Made She Made exhibition Masked Intentions has been one of their most popular in the short eighteen-month period that they've been operating. Twenty-one artists and designers were invited to create a bespoke mask as part of the exhibition. The brief was 'amorphous with the intention of generating a divergent body of work. From deeply personal experiences, to social commentary, to future projection, the conceptual narrative were as varied as the physical executions.'
The masks have been beautifully captured and presented to the public as limited edition prints as well as a keepsake publication. The final result was a massive collaborative effort between Sydney photographer Tomasz Machnik, Sophie Hart Styling, Liv Lundelis Hair and Makeup, Surry Hills Studios, a Love Brief Design Collective, Pricillas Model Management and Magners Cider.
Laura says of the space, "We are an entirely self-funded gallery – meaning this is a total pro bono project of love. We operate as a hybrid between commercial and ARI initiatives. Everyone involved, including Pat and I, volunteer our time and resources to keep He Made She Made alive and kicking. What drives us is the need to see the wider community embrace and support our creatives, and we are so grateful and thankful when they do!"
Due to an incredible public response Masked Intentions has been extended until the 16th June. You can find He Made She Made at 70 Oxford St, Darlinghurst. They are open Wednesday to Sunday 11am – 7pm.
"We have such talent here it's ridiculous." Yes they do.
If you would like to get involved He Made She Made are always on the look out for new and interesting pieces of furniture, lighting, objects, sculpture installations and art work to incorporate into their shows. They invite creatives to participate, but also accept submissions from those looking to get involved.