לורן סרוסי
MISSING YOU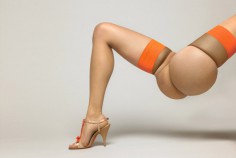 source: finelinemagazinetumblr
So amazing and so weird. French photographer Laurent Seroussi has a large body of interesting commissioned work, but this series of her personal work is what really floored us. We're not entirely sure what's going on, but we love it all the same.
.
.
.
.
.
.
.
source: musicbrainzorg
Laurent Seroussi est un photographe, graphiste et réalisateur français né le 17 février 1970. Il est diplômé de l'École nationale supérieure des arts décoratifs.
Il a travaillé sur des pochettes d'albums et réalisé des clips pour plusieurs artistes notoires.