Pleasure Grounds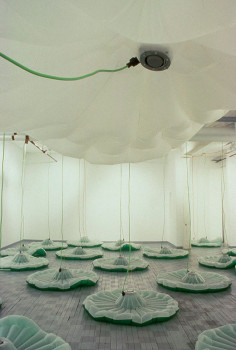 source: highlike
Work: Liquid Sunshine (2005) is a sculpture of a storm cloud cluster that fill the space and hover close to the ceiling. Drawing from romantic landscape painting, religious painting and sculpture, the work depicts a heavenly scene complete with crepuscular rays and cherubic formations. Constructed from man-made materials: nylon, air blowers and strands of monofilament, Boroson relates the presence of this naturally spiritual moment to album cover art of the 1970's, where music, mind-altering substances and visual imagery are substituted for a heavenly experience. The title refers to a radium laced "cure-all" marketed in the 1920s.
Photographer: Bill Orcutt
.
.
.
.
.
.
.
source: risdedu
Lee Boroson lives and works in Brooklyn, NY. Upcoming exhibitions include Esther Massry Gallery, The College at St. Rose, Albany, NY, and GLOW, Santa Monica, CA. His has had solo exhibition at various venues including The Tang Teaching Museum and Art Gallery, Skidmore College, Saratoga Springs, NY; Artspace, New Haven, CT; Hallwalls Contemporary Art Center, Buffalo, NY; Bemis Center for Contemporary Art, Omaha, NE and The Whitney Museum of American Art at Phillip Morris, New York. Boroson has received numerous awards including grants from the Pollock-Krasner Foundation, the New York Foundation for the Arts and the Professional Development Grants from the Rhode Island School of Design. He received a MFA from Indiana University, a BFA from State University of New York, New Paltz and attended the Skowhegan School of Painting and Sculpture.
Professional positions include Visiting Professor, Sarah Lawrence College, Bronxville, NY, Lecturer in the Committee on Visual Arts at the University of Chicago, and sculpture Associate at the Skowhegan School of Painting and Sculpture.