Lucky Storm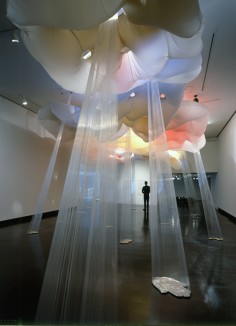 source: leeboroson
"Lucky Storm", 2004, Dimensions vary. Nylon, monofilament, stainless steel, hardware, blower. Seven "crepuscular rays" (an atmospheric optical phenomenon) appear out of an ominous "storm cloud". This is one part of a three-part installation that alters the spaces of the gallery with elements derived from American romantic landscape painting, especially the pre-photographic interpretation of landscape found in Thomas Cole's paintings and those of the Hudson River School painters. Nature is frequently presented as a fantastic amalgam of real detail and impossible phenomena, not observed but reinvented for the purpose of allegorical narrative.
The rays are in the shapes of lucky and superstitious charms laser cut out of stainless steel, then strung like a harp with fishing line. The cloud form is made of nylon fabric, supported pneumatically. The coloration is an effect caused by colored material sewed into the translucent fabric.
.
.
.
.
.
.
.
source: risdedu
Lee Boroson lives and works in Brooklyn, NY. Upcoming exhibitions include Esther Massry Gallery, The College at St. Rose, Albany, NY, and GLOW, Santa Monica, CA. His has had solo exhibition at various venues including The Tang Teaching Museum and Art Gallery, Skidmore College, Saratoga Springs, NY; Artspace, New Haven, CT; Hallwalls Contemporary Art Center, Buffalo, NY; Bemis Center for Contemporary Art, Omaha, NE and The Whitney Museum of American Art at Phillip Morris, New York. Boroson has received numerous awards including grants from the Pollock-Krasner Foundation, the New York Foundation for the Arts and the Professional Development Grants from the Rhode Island School of Design. He received a MFA from Indiana University, a BFA from State University of New York, New Paltz and attended the Skowhegan School of Painting and Sculpture.
Professional positions include Visiting Professor, Sarah Lawrence College, Bronxville, NY, Lecturer in the Committee on Visual Arts at the University of Chicago, and sculpture Associate at the Skowhegan School of Painting and Sculpture.