Patmap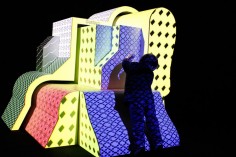 source: highlike submit
Graduated in industrial design, graphic design and animation, Marcio Ambrosio (BR) has worked in different sectors: animation, advertising and post-production. Besides, he participated in workshops and festivals with his art work, such as FILE (Brazil), Japan Media Arts Festival (Japan), Transitio MX (Mexico).
In 2004, he formed the collective zzzmutations, where he produces short animation films and develops experimental and interactive projects.
In 2008, his project Oups! received the Grand prize Division Art at the Japan Media Arts Festival (Tokyo, Japan) and the Grand prize Image in movement at Transitio MX (Mexico City, Mexico) in 2009.