Solus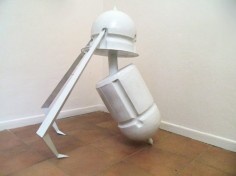 source: galleriaportfolioit
Nel 2012 Amerigo Mariotti e Ignazio Mazzeo fondano il collettivo mariotti.mazzeo che basa la sua forza sulla loro diversità di formazione (architetto uno, artista l'altro), puntando a creare opere, che toccano vari aspetti dell'arte: dal design alla scultura all'architettura, concentrandosi sulla ricerca delle forme e dei materiali.
Il collettivo partecipa a vari concorsi: vince la realizzazione di una scultura ambientale That springs from a globe per la Cassa di Risparmio di Chieti in San Salvo (ch) ed è finalista al Premio Basi di Grosseto con la scultura Kami Mandyet.
Realizza vari progetti di architettura collaborando con lo studio tecnico Mariotti.
IGNAZIO MAZZEO nasce a Erice (Tp) nel 1985. Dal 2003 frequenta l'Accademia di Belle Arti di Bologna, conseguendo la laurea nel 2009. Vive e lavora a Bologna.
La sua ricerca artistica verte principalmente sull'analisi, scomposizione, alterazione, reinvenzione di forme naturali, che concorrono a creare un mondo parallelo dove il padrone non è l'uomo, ma la macchina intesa come geometria organica capace di autodeterminarsi e determinare.
.
.
.
.
.
.
.
.
source: boston-como
Following sporadic collaborations beginning in 2009, Amerigo Mariotti and Ignazio Mazzeo founded the mariotti.mazzeo collective in 2012.The group's strength lies in the diversity of its two members, one an artist and the other one an architect, and aims to create works that concern various sectors of art: from design to urban sculpture, from site specific installation to architecture, focusing on the research of forms and materials. Since February 2012 the collective has participated in various competitions, winning the opportunity to create an environmental sculpture for the bank "Cassa di Risparmio di Chieti" in San Salvo (CH), being selected to participate in the "Premio Basi" near Grosseto, and has exhibited in a solo exhibition entitled "Kami Mandjet "at the Gallery Portfolio in Senigallia. The collective is also involved in various architecture and design projects in Emilia Romagna and Abruzzo.