The Carrier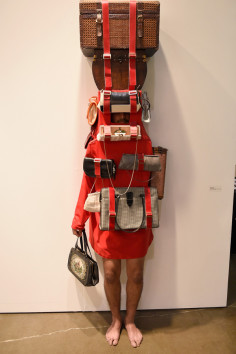 source:p-e-r-f-o-r-m-a-n-c-eorg
Mella Jaarsma has become known for her complex costume installations and her focus on forms of cultural and racial diversity embedded within clothing, the body and food. She was born in the Netherlands in 1960 and studied visual art at Minerva Academy in Groningen (1978-1984), after which she left the Netherlands to study at the Art Institute of Jakarta (1984) and at the Indonesian Institute of the Arts in Yogyakarta (1985-1986). She has lived and worked in Indonesia ever since. In 1988, she co-founded Cemeti Art House (with Nindityo Adipurnomo), the first space for contemporary art in Indonesia, which to this day remains an important platform for young artists and art workers in thecountry and region.
Mella Jaarsma's works have been presented widely in exhibitions and art events in Indonesia and abroad, including:the20thSydney Biennale (2016); 'The Roving Eye', Arter, Istanbul(2014);'Siasat – Jakarta Biennale', Museum of Ceramics and Fine Arts, Jakarta (2013);'Suspended Histories', Museum Van Loon, Amsterdam (2013);'Singapore Biennale', Singapore Art Museum (2011); 'GSK Contemporary – Aware: Art Fashion Identity', the Royal Academy of Arts, London(2010);'RE-Addressing Identities', Katonah Museum, New York (2009);'Accidentally Fashion', Museum of Contemporary Art, Taipei (2007); Yokohama Triennial (2005), and many others. Her work is part of the collection of the Queensland Art Gallery, Brisbane, Australia and the Singapore Art Museum, amongst others.
.
.
.
.
.
.
.
source:laartshowcom
THE WORK
Mella Jaarsma's wearable sculpture The Carrier addresses the fleeting nature of all living things, especially the temporality of humans and their urgent need to escape their current situation or move from place to place. She notes how the human condition of gathering experiences without knowing why, collecting possessions, and fearing death while longing for immortality impacts every living human being. We live in a world in which people are on the move as travelers, vacationers, explorers, and even migrants fleeing the oppressors of their beloved homelands. Today, in capitalist-driven environments, merchants and their consuming masses can be considered carriers of cultures on the move from country border to country border, some of them on the run from oppressors and dictators begging the question: What do I take and what do I leave behind?
THE ARTIST
Dutch-Indonesian artist Mella Jaarsma creates drawings and handmade garments that explore social tradition and its uncertain future. Her work addresses some of the central questions that arise when cultural identity is assigned to objects or when authority is assumed over others by creating division between one thing and another through ethnic or folk stylization. Jaarsma's constructions of occupational and ruling class regalia—the tourist, refugee, or soldier—operate in a way that facilitate the study of power by positing new associations which challenge time-honored ones. She sews together material elements that speak to the vulnerability and defenselessness in human existence as a burden and possible illusion. She questions the male/female/human psyche through costumes that express the complexities and fleeting insecurities core to being mortal while living in a screwed up society. Her wearable sculptures testify to the hidden subjugations found in culture, especially those located inside Jaarsma's own contemporary Indonesian life, by pinpointing their codes and associations.
.
.
.
.
.
.
.
.
source:framerframednl
Mella Jaarsma (1960, Emmeloord) woont en werkt in Yokyakarta, Indonesië. Ze studeerde aan de Minerva Academie in Groningen (1978 – 1984) en vervolgens aan het Art Institute of Jakarta – IKJ (1984), in Jakarta en aan het Indonesia Institute of the Arts- ISI (1985 – 1986), Yogyakarta, Indonesië.
Haar werk wordt in Indonesië en in tal van kunstinstellingen wereldwijd geëxposeerd, zoals het Singapore Art Museum in Singapore, het Museum of Contemporary Art in Taipei en het Katonah Museum in New York. Ze deed mee aan de derde Asia Pacific Triënnale in de Queensland Art Gallery in Brisbane, Australië, aan de Gwangju Biënnale in Gwangju, China, aan de vijfde International Exhibition of Sculptures and Installations in Venetië en aan de Yokohama Triënnale. Werk van Jaarsma bevindt zich belangrijke publieke collecties zoals die van de Queensland Art Gallery, Brisbane, Australië en het Singapore Art Museum.
Samen met haar partner, kunstenaar Nindityo Adipurnomo, won ze de John D. Rockefeller Award, New York, (2006) en de Academic Art Award, Jogya Gallery / Indonesia Institute of The Arts, Yogyakarta (2008).
In 1988 richtte ze samen met Nindityo Adipurnomo de Cemeti Gallery in Yogyakarta op, die sinds 1999 Cemeti Art House heet. Daar organiseren ze tentoonstellingen en projecten en bieden ze artist-in-residence-plekken aan. Jaarma geeft workshops en lezingen in Indonesië en daarbuiten, bijvoorbeeld aan de Duta Wacana University in Yogyakarta, aan het Fukuoka Asian Art Museum in Fukuoka, aan het Lasallesia College of the Arts in Singapore and aan de Rietveld Academie in Amsterdam.
In 2010 was haar werk te zien op de overzichtstentoonstelling Beyond the Dutch – Indonesië, Nederland en de beeldende kunsten, van 1900 tot nu in het Centraal Museum, Utrecht.