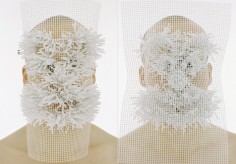 source: technogelsleeping
Michael Fliri nasce a Tubre (Bolzano) nel 1978. Dopo il diploma all'Accademia di Belle Arti a Bologna nel 2006 vince una residency del Ministero della Cultura austriaco e si trasferisce a Vienna.
Prosegue gli studi a Monaco e in Norvegia. Tra le mostre personali ricordiamo 0O°°°oo°0Oo°O0 al Centro per l'Arte Contemporanea Luigi Pecci di Prato, Nome e Getting too old to die young, Galleria Raffaella Cortese di Milano. Partecipa a diverse mostre collettive in Italia e all'estero come Linguaggi e sperimentazioni. Giovani artisti in una collezione contemporanea al Mart di Rovereto, ed estere, come Italian genius now – home sweet home all'Expo di Shangai per il Padiglione Italiano, successivamente esposta a Taiwan, Wonder World. Expecting a restless future, special project per la Terza Biennale di Mosca, e ancora al Centro Culturale Strombeek in Belgio, alla Galleria Comunale d'Arte Contemporanea di Monfalcone, alla Fondazione Stelline di Milano, Merz di Torino, alla Somerset House di Londra.
Lavora con vari mezzi, in particolare video, performance e fotografia. Elementi ricorrenti nei suoi lavori sono la ripetizione, l'interruzione ("limite naturale che va accettato") e il travestimento: da animale, da atleta, da personaggio del cinema o dei cartoon, in ogni caso il mascheramento è una parte importantissima della sua poetica. Questi travestimenti/maschere rappresentano per l'artista l'esperienza di entrare in un altro personaggio o esistenza e di aprire così nuove possibilità..
.
.
.
.
.
.
.
source: galleriaraffaellacortese
Michael Fliri was born in South-Tyrol in 1978. Lives and works in Vienna.
Fliri works with diverse media, particularly video, performance and photography. Recurrent elements in his artworks are repetition, interruption ("natural limit that must be accepted"), disguise and dressing up: as animal, athlete, cinema or cartoon character, costumes are a very important part of his poetics. These masks represent for the artist the experience of another person's existence and to open up new possibilities.
Since 2000 his works have been displayed in many solo and collective shows including Zeppelin Museum (2014), Museo Lissone (2013), Museion, Bolzano (2011); Centro per l'arte contemporanea Luigi Pecci, Prato (2011); Generali Foundation, Vienna (2010); Mart, Rovereto (2010); Moscow Biennale (2009); Hangar Bicocca Milano (2009); Galleria Civica, Trento (2008).
.
.
.
.
.
.
.
source: contour7be
L'artiste italien Michael Fliri (°1978) est né haut dans les Alpes italiennes, dans la région du Tyrol. Ses allées et venues entre terres hautes et vallées, mais aussi du Sud au Nord pour étudier en Allemagne et en Norvège ont laissé une empreinte profonde sur sa pratique artistique. Son œuvre oscille souvent entre deux pôles, deux modes de pensée. Fliri utilise divers médias, dont la performance, la vidéo, la photographie et la sculpture. Il approfondit des concepts comme la métamorphose et le déguisement: les protagonistes de ses œuvres – souvent lui- même – ne cessent de se transformer. Cette transition peut être considérée comme une rencontre entre deux mondes.
.
.
.
.
.
.
.
source: folioverlag
Michael Fliri, nato in Alto Adige, vive e lavora a Vienna e in Italia. Ha studiato all'Accademia di Belle Arti di Bologna, alla Akademie der bildenden Künste di Monaco (Germania) e alla Kunstakademiet Bergen (Norvegia).
Principali mostre personali: Galleria Raffaella Cortese (Milano), Centro Luigi Pecci (Prato), Museion (Bolzano).
Principali mostre collettive: Centre Pompidou (Parigi), Fondazione Merz (Torino), Generali Foundation (Vienna), Mart (Roverto), Biennale di Mosca, Somerset House (Londra).
.
.
.
.
.
.
.
source: folioverlag
Michael Fliri, geboren in Südtirol, lebt und arbeitet in Wien und Italien. Kunststudium an der Accademia di belle Arti di Bologna (Italien), der Akademie der bildenden Künste München (Deutschland) sowie der Kunstakademiet Bergen (Norwegen).
Ausgewählte Einzelausstellungen: Galleria Raffaella Cortese (Mailand), Centro Luigi Pecci (Prato), Museion (Bozen).
Ausgewählte Gruppenausstellungen: Centre Pompidou (Paris), Fondazione Merz (Turin), Generali Foundation (Wien), Mart (Roverto), Biennale Moskau, Somerset House (London).