Requiem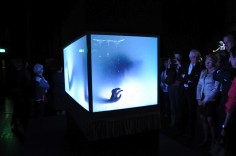 source: enholland-dance
REQUIEM
The young Dutch choreographer Nanine Linning makes international furore. In Germany, where she presently directs her own company in Osnabrück, her work is packing auditoriums and her creations are almost always followed with standing ovations. Linning distinguishes herself primarily through her multi-disciplinary approach, as also seen here in Requiem, her latest production to be received in Germany with laudatory reviews.
The performance begins on stage as a series of poses plastiques; the audience is led among the most wonderful living sculptures by a choir singing a capella. In the second part the statues come to life in a three-dimensional, effervescent choreographic concert, inspired by Gabriel Faure's requiem, performed live.
.
.
.
.
.
.
.
source: youtube
In REQUIEM choreographer Nanine Linning imagines the tension between life and death, the profane and the sacred, the carnal and the spiritual. Themes, which are inextricably linked together and are at the same time absolute opposites. Inspired by Fauré's "Requiem", Dante's "La Divina Commedia" and the absurd and surreal images of the artist duo "Les Deux Garçons", Linning is searching for her own paradise on earth.
REQUIEM is a multidisciplinary production with 25 dancers, live orchestra, two soloist singers, a choir, a sound artist and video. It is a triptych where the public will first walk on stage through dance installations; the dancers create a frozen, silent world.
In the second part Fauré's "Requiem" is being performed while singers and dancers follow Linnings choreography in a world of immense video images on stage. In the last part a Sound Artist will break apart Fauré's "Requiem". The frozen world of part one will melt and the energy of life will be released in a dynamic choreography for the choir and dancers.
"Audible cheers, standing ovations and an ensemble in Tulips hail:
This Requiem noticeably celebrates the desire to move, which can not be dampened by death". ON (Osnabrücker Nachrichten, 2011)