Inspired by Homer's Odyssey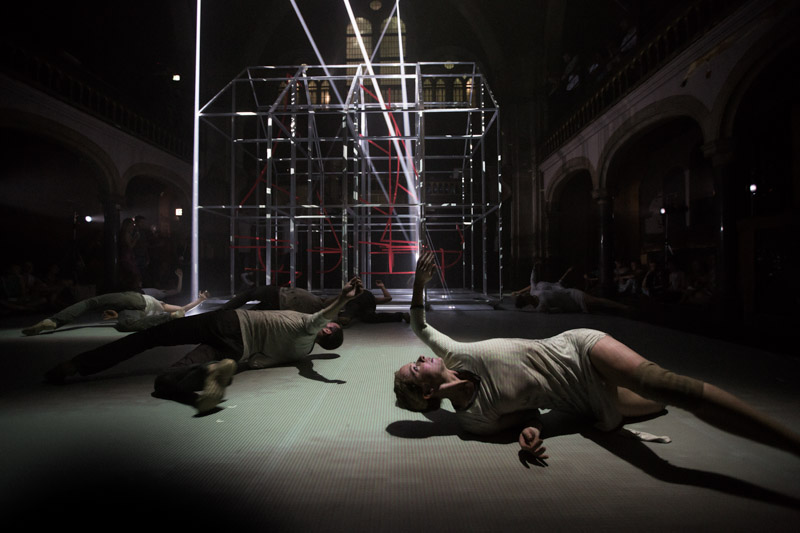 source: eyemagazine
The prospect of combining contemporary dance with architecture, light installation and sound is an enticing one – it recognises the natural relationship between body, sound, image and space, writes Sarah Snaith.
The short-run performance schedule for Nest, an original work by London-based ballet and contemporary dance company New Movement Collective (15-24 July 2013), took place in what was once The Limelight nightclub on Shaftsbury Avenue. In the temporarily disused building, the collective transformed the multi-level former chapel, designed by James Cubitt in 1888, into a kind of ship's hull with multiple bays, each uniquely staged.
Loosely based on Homer's The Odyssey, Marshmallow Laser Feast's light installation lit the primary performance space within the chapel's hazy internal dome. Grid-like projections crossed with mobile structures (designed by the architectural practice Studio Weave) as agile bodies crept over, in and through the many lit towers and surfaces. This first act was seen by the audience from the left and right balconies above. The second act, down flights of rope-lined staircases in the concrete basement, was more disorienting, lit only with triangular neon tubing and an eerie glow that seeped from an open door. The style of dance, in keeping with the more rapid and percussive score, by Canadian composer Christopher Mayo and electronic music composer / performer Anna Meredith, confronted the audience and was staged without boundaries dividing the dancers (some of whom were in street clothes) and viewers.
Subsequent acts included a spinning mirror-centric piece that toyed with reality, altering the circular form with careful lighting to flip between a reflective and semi-transparent surface, and an act that brought the spinning architectural structures together to form an artistic interpretation of a ship's ribcage and sail. The final scene, once again in the venue's hull, falls in line with The Odyssey's conclusion and sees Penelope and Odysseus reunited in dance.
Principal dancer / producer Malgorzata Dzierzon said that the choreography 'responds to the building, to its history', a statement which rang true throughout. The dancing was exemplary yet the impact of the choreography came from the space, the voyeuristic feeling given to the audience on their individual adventures through the building in the penultimate act – to experience a bay of pigs; a room filled with beanbags for viewing animator Filipe Alçada's dripping flowers projected on the ceiling; and a piece where a dancer was trapped like a fly within lengths of elastic.
.
.
.
.
.
.
.
source: rambertorguk
Founded in 2009, NMC is a group of dancers/choreographers, passionate about finding new practice through collaboration. With a particular interest in blending boundaries between dance and architecture their aim is to discover performance potential within the hidden pockets of our cities. New Movement's established and ongoing involvement with the Interprofessional Studio of the Architectural Association has seen them recently mounting successful large-scale events/performances in Madrid, Cologne and London. In 2012 NMC produced Casting Traces commissioned by Will Alsop for Testbed1, a 650sq former dairy and scheduled to be recreated Autumn 2013 for the Slottet, an ex-Carlsberg brewery in Copenhagen. In 2013 NMC's created the critically acclaimed NEST for a grade II listed disused former chapel on London's Shaftesbury Avenue and have worked with the British Army and artist Graham Gussin on a gallery screen-based work Close Protection.
.
.
.
.
.
.
source: newmovementorguk
A collective of new generation choreographers with a long collaborative working history, both as dancers and dance-makers with Europe's leading ballet and contemporary companies. Developing work that is directly presented in response to different and unusual theatrical settings, NMC aims to challenge the notions of traditional performance and evolve the landscape of contemporary theatre. With a strong committment to collaborative working methods between dance, architecture, film and music, NMC is dedicated to unlocking the performance potential within the hidden pockets of our cities.