Future Body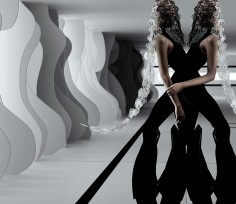 source: anatomythestudio
Future Body is a fashion film exploring digital aesthetics. The fashioned body performs in
hyperreality and notions of the future are constructed through the use of CGI, animation and
costume design featuring 3D printing technologies.
.
.
.
.
.
.
.
source: postmatter
A stiff cyborg, fixed with a glazed and expressionless stare, dips her fingers into an alien-like amniotic fluid. Gravity shifts as droplets reverse upwards, forming a pulsing headpiece that encases her smooth, almost porcelain skull. 'Future Body', a new film by Nirma Madhoo, uses CGI and animated 3D modelling to explore technological embodiment, enacting it in a character that transgresses expected gender roles in a newly mechanised system of digital-infused aesthetics.
Set in the clinical, segmented interiors of a simulated hyper-real space, Madhoo's cyborg is found dressed for battle, in pieces forming exoskeletons, a spinal scorpion's tail and mantis-like shoes, designed by Iris van Herpen. A collision between her human and technological self is physicalised as she undergoes mitosis, splitting into two and performing a combative dance with her duplicate.
Currently showing in Melbourne in an exhibition titled 'Fashion Performance: Materiality, Meaning, Media', alongside work from Hussein Chalayan, BOUDICCA and POSTmatter collaborator Bart Hess, it offers a glimpse into the collapse of gender, species and machine into one another, in turn reimagining the future for fashion design and communication.