espace resonne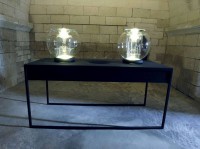 source: pascalbroccolichi
Évoluant dans différentes disciplines, le travail de Pascal Broccolichi prend sa
source dans une approche focalisée sur l'écoute, et tout particulièrement dans
le son envisagé comme un vocabulaire de formes qui se prêtent à la création
d'installations. Comme cadre pour sa recherche, il a développé un
réseau d'environnements multiples liés par des relations continues entre une
œuvre et la suivante. En exploitant les principes habituels de certaines lois
acoustiques et leur champ d'application technologique autour de l'espace
d'exposition, Pascal Broccolichi explore la typologie infinie des sons avec nos
capacités de perception.
Developing within several different disciplines, the work of Pascal Broccolichi
nevertheless finds its source in an approach focussed on listening and, more
specifically, in sound envisaged as a vocabulary of forms which lend
themselves to the creation of installations. As a framework for his research,
the artist has developed a network of multiple environments connected by
on-going relationships between one work and the next. By scattering the
customary principles of certain accoustic laws and their fields of technological
application around the exhibition art space, Pascal Broccolichi explores the
typology of sounds with our capabilities for perception.
.
.
.
.
.
.
.
.
.
source: pascalbroccolichi
Espace résonné, 2013
verre soufflé et dispositif sonore
coll. CIRVA, Marseille
Le projet développé pendant deux ans avec l'équipe du CIRVA (Atelier de
recherche et de création contemporaine, Marseille) est une expérience à
partir d'un phénomène sonore rare, « l'harmonique infini ». Il s'agit de
réaliser une série de résonateurs acoustiques en verre et de démultiplier
en chaîne le phénomène de la fréquence de résonance, jusqu'à ce que
l'ensemble du système se mette en effet de bouclage.
The project developed for two years with the CIRVA team (research
and contemporary creation workshop, Marseille), is an experience on
the "infinite harmonic", a rare sound phenomenon. A series of acoustic
resonators made with blown glass, multiply the phenomenon of resonance
frequency, until the entire system is indeed of looping effect.