ポール・コックセッジ
폴 콕세지
ПОЛ КОКСЕДЖ
保罗•考克斯基
Capture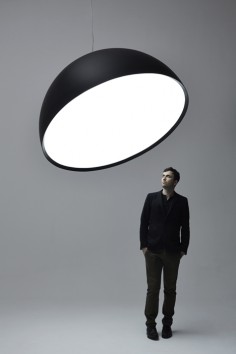 source: casavogueglobo
O designer britânico Paul Cocksedge é conhecido por explorar os limites da tecnologia com projetos provocantes e inesperados. Esse é o caso da série de trabalhos Capture, nela os limites da física foram quebrados e Cocksedge abusou das dimensões, com a gigantesca luminária Domed, e brincou com o aço como se fosse uma folha de papel, com a mesa Poised.
O designer conseguiu transformar meia tonelada de aço em uma mesa elegante como uma dobradura. Para isso, fez intensos cálculos de gravidade, massa e equilíbrio para a peça dar a impressão de estar prestes a pender enquanto, na verdade, está perfeitamente estável.
Já os holofotes ficaram pequenos se comparados com a luminária Domed, de 1,6 m. Devido ao seu tamanho, a peça, que tem no interior uma estrutura côncava, retém a luz emitindo um efeito difuso. Dessa maneira, o calor para quem está próximo à luminária é quase imperceptível.
Além da apresentação das peças o designer criou ainda um mosaico colorido no teto da galeria que quando iluminado com luz branca desaparece lentamente, revelando a maneira com que a luz interage sem que seja percebida. Durante a mostra serão apresentados projetos arquitetônicos em que o artista insere as peças em ambientes fora da galeria para demonstrar sua utilidade cotidiana.
.
.
.
.
.
.
.
source: paulcocksedgestudio
Paul Cocksedge Studio was founded in 2004 by Paul Cocksedge and Joana Pinho. With a strong and dedicated team of collaborators, the Studio has won national and international acclaim for its original and innovative design, underpinned by research into the limits of technology, materials and manufacturing processes.
The key feature of the Studio's work, in everything from product design to architectural projects, is a focus on simplicity and imagination in order to create unique people-centred designs. At the core of this focus lies an unrelenting attention to detail, a willingness to question previous assumptions about design, and an eagerness to take on a wide-ranging array of projects.
The Studio works on projects across the world, dealing with a variety of different objectives, budgets and regulations. Adaptability is at the heart of every project we take on, large or small. Through effective planning and close collaboration with clients and stakeholders, we bring a high level of expertise to every part of the design process.
The Studio's work includes KISS for City of Milan, the Living Staircase for Ampersand in London, Paul Cocksedge's recent acclaimed solo exhibition at the Friedman Benda Gallery in New York, as well as the launch of The Vamp®, which connects speakers with our new wireless technologies.
Our clients include V&A, London Design Festival, NHS, Swarovski, BMW, Hermès, City of Lyon, Wellcome Trust, Sony and many more.
Paul Cocksedge has won a number of awards and prizes for his designs and is invited to speak at key design events around the world.
.
.
.
.
.
.
.
source: maxitendance
Paul Cocksedge est un designer pas comme les autres, car chacune de ses réalisations va bien au-delà de la simple réinterprétation des objets qui peuplent notre quotidien… Pour cet artiste pluridisciplinaire, transformer des objets ordinaires en une "oeuvre" extraordinaire est un défi qu'il relève toujours avec succès et sa dernière création ne faillit pas à cette règle.
Baptisée "Capture", sa toute nouvelle suspension saisit d'emblée le regard par son imposante forme en dôme, mais aussi et surtout par sa dimension hors norme puisqu'elle mesure pas moins de 1,6 mètre, de quoi couvrir comme un soleil les intérieurs contemporains. Son design minimaliste en demi-cercle tout en aluminium brossé et sa couleur noire donnent à la lumière une dimension presque irréelle diffusant un halo uniforme et tamisé du plus bel effet.
.
.
.
.
.
.
.
source: designdiffusion
'Capture' è un lampada in alluminio di grandi dimensioni (1,6 metri) a forma di cupola, la cui struttura concava irradia un flusso luminoso di una luce calda e soffusa.
A livello formale la lampada è caratterizzata da un netto contrasto tra la sua superficie nera esterna e la luce irradiata dall'interno.
Il lavoro sperimentale di Paul Cocksedge è conosciuto per l'intenzione e la capacità di esplorare i limiti dei materiali e il suo impegno e creatività nell'innovazione tecnologica.