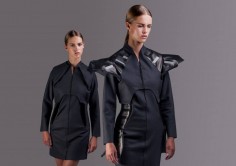 source: paulinevandongennl
There is nothing natural in nature; technology makes our humanness giving form to our surroundings. The human habitat reveals a techno-morphed structure that can no longer be hidden behind the vestiges of a natural world: technology has to be naturalized.
Pauline van Dongen researches the body in a technologically textured space. After graduating from ArtEZ, Academy of the Arts in Arnhem, the Netherlands, she started her own womenswear label in 2010. Pauline operates a meticulous research of the behaviour of experimental and high-tech materials, combining new technologies with traditional techniques to constantly renovate craftsmanship. Working closely with companies from the field of science and innovation, Pauline aims to merge fashion and technology giving life to scientific creations.
.
.
.
.
.
.
.
.
source: whatwomenmake
Pauline van Dongen was born in Amsterdam in 1986 and had a childhood filled with art and music attending an arts conservatory at the age 15. In 2004 she was accepted into ArtEZ, the academy of arts in Arnhem. It was there that she first developed an interest in the French method of pattern drafting called "moulage" (which literally translated means 'mold'). As she explored surfaces and textures, she began screen printing silk jersey with puff ink applying heat to the fabric. During this process, she discovered that the ink expanded and pulled the fabric into a resilient and flexible plissé. Draping the luscious material onto the body, voluminous shapes began to emerge. Her graduation collection, Sibylle, was inspired by body language and the stories she could tell with her textile creation. In 2008, she went on to the Masters Program at the Fashion Institute of Arnhem. During a shoe design course there, she discovered a love for product design and 3D printing. Innovations in 3D gave her the opportunity to translate the sculptural feel of her garments into a rigid polyamide that maintained the organic lines she so loved. The outcome are these striking shoes lend a futuristic look and feel to her overall collection which includes clothes and jewelry.
In 2010, her Vertigo shoes won the Sacha Golden Heel Award.
Her graduation collection Morphogenesis was awarded 'most creative collection' by the Camera Nazionale della Moda Italiana at Mittelmoda, the Fashion Awards in Italy.
She's also been selected as one of ten finalists at the Belgian fashion award to be held on October 20th. Tactility, texture and no-frills modernity are the essence of Pauline's work. As she continues to explore the use of new and unconventional materials, she says she's creating "a proposal for the future." At what women make, we quite agree.