colourscape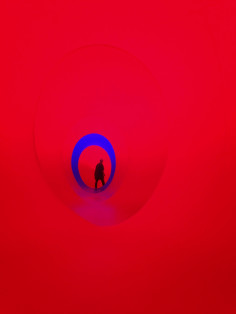 source: eyemusicorguk
Colourscapes are walk-in structures of colour and light, originally created by artist Peter Jones in the early 70s. Over 35 have been made, in many different sizes and shapes offering different experiences.
In 1994 Eye Music Trust commissioned the largest ever Colourscape (Festival One) with funds from the National Lottery and Foundation for Sport and the Arts. Subsequently Eye Music Trust commissioned two further Colourscapes – Festival Two and Moonorooni. All three are presented by Eye Music throughout the UK and abroad for events and workshops linking music and colour.
Cwmni Colourscape, the partnership of artists Peter Jones and Lynne Dickens, have three Colourscapes, Mirror Islands, Wings and Sky Holes, and continue to develop new work.
.
.
.
.
.
.
.
source: sukothai
Colourscape was conceived by the English artist Peter JONES in 1965 as a membrane-like structure composed of various chambers with a succession of ever-changing, ultra-brilliant colors. It was, you might say, a color sculpture that people could walk around inside of. Each of the Colourscape structures have varied according to the size, function, and name of the project. In the past, project names have included "Hub," "Wing," "Mirror, Mirror," and "Festival." These have ranged in size from roughly 1200m2 to 2900m2. The color of each chamber is arranged to create a space that is appropriate for a variety of human activities, and the brilliance and changes in color are designed to call up some primordial human sensation. Upon entering, each visitor wraps their body in a red, green, yellow, and blue cape. This is intended to make each visitor a colored, moving object that becomes a part of the interior environment and also to make them a part of the color experience of other visitors. The light sources inside are purely natural and enter via semi-transparent PVC (polyvinyl chloride) membrane that have been colored with primary hues. Yet the blend of colors created has the beautiful shine of an aurora, which is hard to believe especially after viewing the slightly silly appearance of the structure's exterior. Inside "Colourscape," color is so all-encompassing that people seem to have been swallowed up by it. The experience might be compared to being totally surrounded by an aurora or pieces of stained glass with rays of light hitting them. But "Colourscape" is something that most people have never before experienced. The project, which began as "Spaceplace" in 1965, now takes place as a kind of collaboration between the group and the event organizer. This is due to the fact that special measures must be taken at each event to meet the requirements of the site and the wishes of the organizer. At the same time, the project has branched out to create a variety of events from workshops and other educational programs to performances and music festivals, and has developed into a project that can be enjoyed by a great number of people regardless of age or sex.
.
.
.
.
.
.
.
source: wharferjwordpress
The concept of brightly coloured, fully immersive worlds dates back to the mid 1960's when two London artists Maurice Agis and Peter Jones, got tired of the restrictions and limitations of galleries and created the first of their "abstract walk through spaces", labyrinthine worlds designed to stimulate both visual and sensory experiences…
After 20 years of relative success, Agis & Jones separated company and Agis's first solo project became Colourspace, which after visiting London for the first time in the mid 1980's, ended up in Germany where wind caused the inflatable structure to lift off the ground, injuring 5 people.
The whole construction was reassessed and it was this improved version Dreamscape V that we went to visit in London's Potters Fields near Tower Bridge, at the end of August 2005. And pretty amazing it was too. as you can see from these photos. We all had to wear coloured smocks to help us blend and merge into the fantastically coloured and organic volumes. I also seem to remember soft ambient music wafting through the voids adding to the other worldliness…
Sadly less than a year later, when the structure was up in County Durham, it broke loose from its moorings once again, this time killing 2 people and injuring 13. Vandalism was initially suspected, however there were also a theory about the internal air heating up and making the structure act like a hot air balloon. Two years of accusations and investigations resulted in Maurice Agis being charged with gross negligence manslaughter, a charge which was never translated into a custodial sentence however, as the jury were unable to reach a unanimous verdict.
In March 2009 Agis was finally fined £10,000 for breach of health and safety regulations. Sadly however (due to the charges and court proceedings or not, is not clear) he died less than 6 months later and his ashes were split into 4 separate coloured pots, red, blue, yellow and green…
Which brings us to today and the Colourscape installation currently on Clapham Common. Curated by Agis's erstwhile partner, Peter Jones (who now seems to claim sole creative inspiration for the idea), the whole thing appears to have developed into a far more structured affair than the one we saw, with (according to their website) a seemingly endless litany of performers and musicians filling the space and air with, I might suggest, all sorts of unnecessary guff…
Which I think is a shame really, as the one overriding memory I have of our experience (apart from the amazing colous and the smell of vinyl) was that there was hardly anyone else there. My sister and her two eldest were with us, so it must have been school holidays, but as you can see, we pretty much had the place to ourselves, allowing us to explore in our own time and to our own soundtrack of ohh's and ahh's and laughter…