Morphlow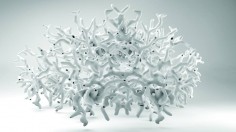 source: highlike
Work: Morphlow is an exploration of superficial matter, latent coordinates, and (allo)biomorphic process. Through spatial structure a new form emerges to represent struggle, entanglement, space, and alternative habitations at multiple scales. Just as any organism that struggles to survive, Morphlow is no different. It begins with an idea and emerges as a life(like) form through computation and process. Born of the allo-shadow biosphere, at times it can appear to reflect the nature of transposed entity, the interconnection of gociety, and the complexity of thought. With structure emerges order. With micro-tanglements emerges life. With breath emerges flow. With persistence emerges thought. Dimensions: cm: 26.2 w x 24.846 d x 12.264 h in: 10.315 w x 9.782 d x 4.828 h Material: White, Strong & Flexible Nylon Process: Laser Sinter 3D Printing.
Photographer: RJ Duran
.
.
.
.
.
.
.
source: rjduran
Morphlow is an exploration of superficial matter, latent coordinates, and (allo)biomorphic process. Through spatial structure a new form emerges to represent struggle, entanglement, space, and alternative habitations at multiple scales. Just as any organism that struggles to survive, Morphlow is no different. It begins with an idea and emerges as a life(like) form through computation and process. Born of the allo-shadow biosphere, at times it can appear to reflect the nature of transposed entity, the interconnection of gociety, and the complexity of thought.
With structure emerges order.
With micro-tanglements emerges life.
With breath emerges flow.
With persistence emerges thought.