Cybill Shepherd/Phone Sex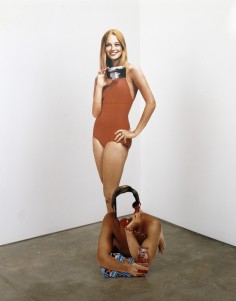 source: observer
Heinecken, who taught at UCLA from the 1960s to the '90s, was, like most photographers, interested in the ontological status of his medium. One of his earliest realizations was that there were already enough pictures in the world. His role as an artist wasn't to take new pictures but to make them. Starting in the 1960s, Heinecken altered popular magazines to create cut and reassembled collage pieces. A wall of 120 of these are on view, forming a display of spread-eagled copies of magazines including Good Housekeeping, Time and Playboy.
Spread-eagled is a good verb for Heinecken. His investigation of popular culture in the 1970s involves a lot of boobs and bush, and many of his found-image collages and double exposures are sourced from porn. (Between this show and the Gauguin exhibit upstairs, there has perhaps never been so much full-frontal nudity at MoMA.) In the assemblage Lingerie for a Feminist Suntan #5 (1979), bras made of photo-sensitive linen and a naked woman's prominent bikini lines make the parallel between a sun tan and the photographic process. The series of Polaroid photos She: You have a beautiful cock … (1977) plays on the self-processing nature of Polaroid film, putting on display five shots of the artist's erection: He, like the patented film, is exposing himself. The show is lewd—and even more obscenely full of puns—but with reason.
Heinecken was best known for works like Recto/Verso (1988), photograms that superimpose magazine pages to revel in the visual collision of advertising and articles: "Asparagus: A Taste of Spring" reads the text under one woman's aerobicized butt as asparagus spears and leg lifts blur. The series Are You Rea (1968) utilizes a similar strategy, double-exposing the front and back covers of popular magazines to create single images with unexpected juxtapositions. They imagine a magazine as a single surface composed of images flickering past.
Such works foreshadow the Internet. Heinecken's uses of photography anticipate the image culture we live in today, in which a screen delivers an overload of images on a single surface and you mix your own experience of media. His combination of high and low culture, pop and philosophy is reminiscent of other pioneers, like Michel Majerus, whose very good show is currently on view at Matthew Marks. It anticipates artists from John Kelsey to Lucas Blalock. In other ways, the materials Heinecken uses are marked with age: His world is one of local TV weathermen, televangelists and leopard-print leotards. The stapled photos in his image collages are yellowing. His work also shows its conceptual age, at times. Heinecken wasn't a first-rate artist, but the show finds something relevant and important in his project.
.
.
.
.
.
.
.
source: momaorg
Robert Heinecken: Object Matter, the first retrospective since the artist's death in 2006, contains over 100 photo-based works created by Heinecken between 1962 and 1999. Heinecken was best known for working in the medium of photography and with manipulating images, but surprisingly, he seldom used a camera, instead utilizing existing materials such as books, popular magazines, television, and stock pornographic photographs. Heinecken translated photographic materials and processes, resulting in an eclectic array of work: sculpture, collage, transparency, and videograms, to name a few. By challenging the norms of both photography and commercial media, he was able to experiment within both forms and to create his own entirely original and stimulating works.
MoMA_Heinecken_PinUp
Robert Heinecken. V.N. Pin Up. 1968. Black-and-white film transparency over magazine-page collage, 9 × 7" (22.9 × 17.8 cm). Museum of Contemporary Art, Chicago. Gift of Daryl Gerber Stokols. © 2014 The Robert Heinecken Trust
Throughout his career Heinecken taught at various universities (Heinecken founded the photography program at UCLA) and was published in several journals and books. His writings are featured in a section of the exhibition catalogue. Ranging from 1960s to 1980, they clearly state his creative philosophies and approach to photography as a medium. From "Statements About Work," c. 1963:
"An aspect of the work has to do with altering the literal/cultural meaning of existing public images by making minimal changes and additions. Using superimposition, juxtaposition and other contextual changes, I am functioning as a visual guerrilla."
Heinecken transformed commercial magazines and images in order to give them fresh (and often controversial) meaning. In 1969, Heinecken began his project of subtly altering Time magazines and surreptitiously placing them back on newsstands and in dentist-office waiting rooms. By rejiggering aspects of the existing images and text, he created something entirely new and singular, at odds with its origin, a mass-circulated commercial periodical. Following Heinecken's alterations, the content cannot be easily digested; it requires a second look and a second thought. His work both parodies the source material, but also earnestly understands it for what it is. Like many contemporary artists, he cited Marcel Duchamp as his hero, "because he took nothing seriously but everything seriously."
.
.
.
.
.
.
.
source: dailyserving
Robert Heinecken is an artist who is hard to pin down. A photographer who rarely used a camera, he founded UCLA's photography department in 1964. Skeptical of the documentarian role of photography, he mined images from mass media, prefiguring the appropriation strategies of Pictures Generation artists like Richard Prince and Sherrie Levine by at least a decade. Despite this, he was never able to achieve the notoriety accorded these artists.
Accompanying these modest two-dimensional works is a large-scale installation titled Waking Up in News America (1986). Seen here for the first time in almost two decades, the piece consists of a room plastered wall-to-wall, floor-to-ceiling with photolithographs of televisions featuring images of female newscasters. They also cover everything in the room, including two mannequins, a lamp, a television, a chair, a book, etc. Although impressive in its execution, I found myself underwhelmed in the midst of this TV environment. The pervasive influence of mass media may be so ubiquitous at this point that its visual manifestation no longer has the same impact that it did thirty years ago. The photolithographs also lack the presence of the videograms, appearing dull and flat when compared with the supernatural glow of these earlier works.
.
.
.
.
.
.
.
source: moma
Robert Heinecken (1931–2006) was a pioneer in the postwar Los Angeles art scene. Describing himself as a "para-photographer," because his work stood "beside" or "beyond" traditional ideas associated with photography, Heinecken worked across multiple mediums, including photography, sculpture, video, printmaking, and collage. Culling images from newspapers, magazines, pornography, and television, he recontextualized them through collage and assemblage, double-sided photograms, darkroom experimentation, and rephotography. Although Heinecken was rarely behind the lens of a camera, his photo-based works question the nature of photography and radically redefine the perception of it as an artistic medium. His works explore themes of commercialism, Americana, kitsch, sex, the body, and gender. In doing so, they also expose his obsession with popular culture and its effects on society, and with the relationship between the original and the copy.
.
.
.
.
.
.
.
source: zonezero
Robert Heinecken, artista que cambió la manera de ver la fotografía dentro de la cultura norteamericana murió el pasado 19 de mayo en Albuquerque en Nuevo México a los 74 años de edad.
Heinecken se había mudado a Nuevo México de Los Ángeles, en donde había vivido y trabajado durante 50 años. Había padecido del síndrome de Alzheimer desde 1994 dijo su esposa Joyce Niemanas.
En la década del 60, Heinecken abordó la fotografía de una manera diferente a lo que se había hecho en el medio. Él se llamaba a sí mismo un "para-fotógrafo" por que su trabajo estaba "junto" o "más allá" de las ideas tradicionales de la fotografía.
Esencialmente, el artista decidió que en los albores de la explosión mediática que caracteriza la vida contemporánea, ya había suficientes fotografías en el mundo. En lugar de hacer más, manipuló las ya existentes. Su arte tenía la intención de aclarar, revelar y a veces confundir los códigos sociales, políticos y artísticos subliminales contenidos en ellas.